You are here » Home » Advertise » Advertise Here At Come On Aussie


Is this the page where I am supposed to convince you that advertising with us is the next best thing since sliced bread? Let's see how I go… LOL
And also some free dietary advice... too much bread is bad for you ;)
Is this the page where I am supposed to convince you that advertising with us is the next best thing since sliced bread? Let's see how I go… LOL
And also some free dietary advice... too much bread is bad for you ;)
Here's what we've got for you to consider.
Come On Aussie is primarily a web directory, with tens of thousands of pages.
And as newer Australian website listings are added, they show up at the top of their category. And they push the older ones down the page... and... well...
You get the idea. Eventually, the older ones can end up a long way down the list!
However, you can easily stay on top of the heap!
Our...
ENHANCED BUSINESS LISTING
... does just that!
It keeps your listing up there near the top of your category. Or when someone searches here and matches your key words. And it's bigger than normal, so it stands out like... Well, it stands out more than the others :)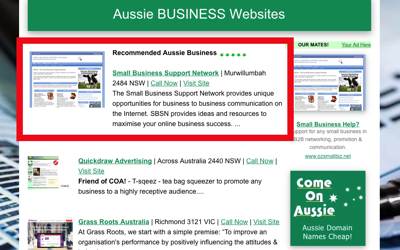 If you'd prefer, you can also get a...
SPONSORED LINK
These also appear near the top of your category page. A snazzy headline! A couple of lines of enticing content. And a direct link to your website.
These two options are great!
They both give you a permanent, "contextual" link on a page that is highly relevant to your business (i.e your "category" page).

Placements for both of these options are limited.
But what's that?
You want more? LOL
Well of course... there IS more!
Now... What about a nice...
DISPLAY ADVERTISEMENT
...on EVERY page in your category?
All of your category pages, and every other business page listed in that same group?
Depending on your category, there could be 500 or more display ads for your business on extremely relevant pages! All over Come On Aussie!!!
And... these also appear on pages which contain articles related to the section you're in! Or the keywords being searched for at the time!
Again, there are only a few of these available in each category.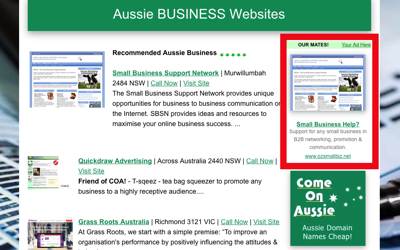 HOME PAGE TEXT LINKS
Come on Aussie can also do these, but they are as scarce as hen's teeth!
And we don't just link to anybody :)
Each case, I discuss personally to determine how best we can help!


HOME PAGE TEXT LINKS
Come on Aussie can also do these, but they are as scarce as hen's teeth!
And we don't just link to anybody :)
Each case, I discuss personally to determine how best we can help!


Then there's also ye old faithful...
BANNER ADVERTISING!
Yep... these have been around forever and a day. And that's because... well... they're cheap! LOL
And we've got hundreds of spots for clever ads available all over the place at Come On Aussie. In either square, vertical or horizontal format.

Come On Aussie can also provide...
PROMOTED POSTS
Or whatever they are called these days. Guest Authors. Article Marketing. etc. If you write good content, we can publish it!
There's a whole range of topics to choose from. But be warned though, we are tough on the actual content! :) If it isn't top notch, it won't get passed the Editor! And rightly so, because such stuff should be useful to the people using our site... and not just rehashed or spun junk. You can add these yourself right here, right now!
Or... if you've got no time (or ability) to write something, then provide us with a few (decent) clues on what you want to say, and we can put pen to paper for you :)
What about...
PICTURES?
Have you got any decent piccies we can use here?
They DO say a thousand words, and we've got a few spots for your product placement! I mean... err... pictures!
What about sponsoring the background image (with a mention and a link) for a category or two?
What about featuring an image (or three or more) in our "Digital Gallery"?
Have you got a "supply" of images we can use with our articles? All with appropriate attribution of course!
And every article/picture you supply (more than two), will link back to a special "writers" page which includes a short bio about you. Along with links to all your items, and your site (just like you can see at the bottom of this page right now). While there's nothing new in that, it's still highly effective should you choose to do it.
These are just a few possibilities to consider.
And we're always open to other suggestions.
And since the Search Engine Overlords don't want people to "game" their system, we obey their rules, and provide you with search engine "friendly" adverts :)
Emma Chizzit?
No. Not the mystery book series :) The PRICE!
Oh... the price? LOL
Well, here's the deal...
We ONLY offer LONG-TERM subscriptions here. That's at least 6 or 12 months, all paid in advance through PayPal.
There's very little point in doing any online advertising for a short period. Visitors just start getting used to seeing your name around... and then "poof!" You disappear?
So that's what this is... a long term strategy! Think of it as "Brand Awareness" rather than traffic generation!
And then there is...
OUR LIFETIME GUARANTEE!*
Yep! If you want it!
Everything we publish for you here, can stay online for a lifetime!
*Yours ... or mine ... whichever ends first :)
To find out emm uchit izz, simply send an email to...
stephen [ at ] comeonaussie dot net
...and I can send you all the details (i.e. our rate card).
Yep, and I'll have your email address to hound you forever - NOT! :)
You should be surprised at how affordable it is.
But then again, we've helped lots of Aussie small business online for the last 20+ years by keeping our prices @ decent levels.
Any questions? Please get in touch.
Written by coais
About Stephen Spry
Stephen Spry is a freelance web designer and Internet publisher. He has been working online, full-time, since 1995 after an 18-year career as a high school Careers Adviser. Stephen operates several websites and web directories in a variety of niches. His main web design business can be found here » Come On Aussie.