So let's define what a man cave actually is...
And I'm not talking about that place with a bar where footy posters adorn the walls, with the big couch and bigger screen TV. That is what a "man cave" might "be" now once popularised by the media.
No. I'm talking about that other place where guys "go" to ponder the things in the world that are bothering them. The place where they seek answers to the really big issues they are facing in their lives and their relationships.
Yes, there is such a place. And unfortunately, the answers they seek are most often NOT found there.
Ladies, you've got to understand how men think.
Their "job" since time began was to be the provider, and to provide "solutions" to all the problems their "tribe"/family faced. And many men, even in the current century, still firmly believe this is one of their primary roles.
When things get tough and no immediate answer is obvious, what do they do?
Head off to the "man cave" to ponder the issue. To weigh the pros and cons of all the different possible alternatives, and come up with a solution to the problem!
So they'll disappear to the shed... the garage... go fishing... where ever...
They'll go to that place where they are free from all the "distractions" of the real world. A place where they can free their mind and allow the answer to just "appear".
It all sounds good in theory.
In practice however, when the answer is NOT found (in the vast majority of cases) the male needs to withdraw to the man cave (again and again) on repeated occasions in an attempt to seek further possible solutions...
So he can ride in on that big white horse and "save" the situation :)
And THAT is what frustrates their other halves even further.
The fact that he's "always in the shed"!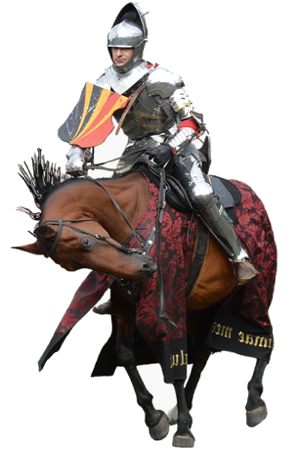 Well, that's what he's doing there!
Trying to be the "White Knight" of Ye Olden Days, and solve the immediate problem you, he, and the family etc are facing... And he's probably having trouble finding the solution.
You see, unlike you girls, men are NOT used to "chatting" about our issues to other people, especially other men! We would seem "weak" if we were to do that - sober at least lol!
In your case, the mere "talking" about stuff helps you get a load off. And while it may also not lead to an answer, the chatting certainly relieves the burden somewhat. It makes less of the issue, at the time.
Your fella however... Remember what his job is (or what he "thinks" it is)... Is to FIND the SOLUTION!
When he can't... when he withdraws even further... it's maybe because he thinks he has failed in his role of "solution finder".
Yeah, you and I can see he's making things worse... but he can't.
He's probably also embarrassed, or frustrated that the "answer" to such a simple problem - whatever it is - is avoiding him, despite repeated retreats to the man cave.
So you need to help him out!
And fellas, you need to understand this too.
So What's The Solution?
The BEST solution when you have a problem in the family does NOT involve rocket science!
It's called COMMUNICATION!
Simple, honest, two-way and BLAME FREE communication.
If you or your partner feel "threatened" in any way when you discuss serious issues... If you feel that you are being constantly "blamed" for something and need to go on the defensive all the time... This is NOT the sort of communication I am talking about.
If that happens, either party is likely to withdraw even further... pushing the original problem down the list of things to be "solved". And replacing it with a new one to answer the new question "Why am I always at fault here?" :)
Guys... You can't solve everything by charging in on the big white horse and defending the damsel in distress!
While that might sound chivalrous, romantic, heroic, manly or whatever... basically what your partner wants is someone to SHARE the problem with... so you can come up with a joint solution.
And THAT is what ANY relationship should be all about... working through your issues (for the rest of your lives) and coming up with solutions TOGETHER! :)