The Mediterranean Sydney
| Surry Hills 2010 NSW |
Call Now
|
Visit Site
Planning an upcoming event in Sydney? Need a fully functional licensed bar, restaurant and entertainment venue with seating for up to 300 guests? The ...
Event Mafia
| Sydney 2000 NSW |
Call Now
|
Visit Site
Event Mafia is an innovative event company providing unconventional event design and management. We pride ourselves on the ability to Innovate, Engage...
Bespoke Social
| Cromer 2099 NSW |
Call Now
|
Visit Site
To consistently deliver outstanding original events by exceeding our client's expectations. We specialise in corporate events, gala dinners, wedd...
What About Me?
Content suggestions
for "events"...

What's the Difference between Trade Marks and Patents?
Trade marks and patents are two forms of intellectual property (IP) that individuals and businesses...



Margaret River for Singaporean Expats
The definitive Margaret River Guide for the Singaporean Ex-Pat on holiday! You see Singaporeans and...



Whale Watching @ Hervey Bay
Hervey Bay in Queensland is the Whale Watching Capital of the World! Watch Australia's Humpbacks do...



Australian Events
Are you looking for some help with an event you want to host?...



Welcome to the "GC" - Queensland's Glorious Gold Coast!
Queensland's Gold Coast is the home city for the Commonwealth Games in 2018! Check out what's going...


Got anything YOU want to add here?

Magic Mirror Face Painting
| Quakers Hill 2763 NSW |
Call Now
|
Visit Site
Our highly skilled and creative entertainers tailor packages to suit your party needs so that you can cherish these special moments forever. We specia...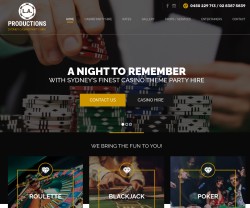 L.A. Productions
| Sydney 2000 NSW |
Call Now
|
Visit Site
We provide casino style gaming tables as well as all necessary playing equipment for private and corporate events. Our Blackjack, Roulette and Poker t...
Saber Events
| EDGECLIFF 2027 NSW |
Call Now
|
Visit Site
Saber Events is an event management company based in Sydney and Brisbane. Our professional team can assist you with organising the perfect corporate ...
Sharebooth
| Ardnell Park 2148 NSW |
Call Now
|
Visit Site
All our booths are spacious so more people can be in the booths at one time. More people means more fun! Personalised photo booth hire for your event!...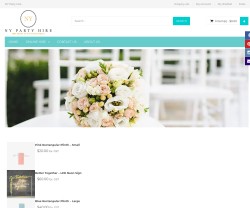 NY Party Hire
| Castle Hill 2154 NSW |
Call Now
|
Visit Site
NY Party Hire is a Party equipment hire company based in Castle Hill in the Hills District, NW Sydney. NY Party Hire specialises in Party equipment re...
Hidden Door
| Surry Hills 2010 NSW |
Call Now
|
Visit Site
At Hidden Door we offer you the best in event planning and execution, for corporate events or other large group activities. Creating experiences with ...
Balloon Inflation
| Alexandria 2015 NSW |
Call Now
|
Visit Site
Balloon Decorating Company & Party Supplies Shop, Offering: Balloon Decorating Service Gift Balloon Bouquets Balloon Deliveries Custom Printed Bal...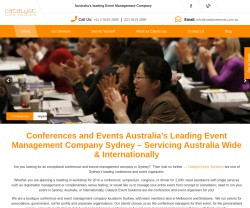 Catalyst Event Solutions
| Artarmon 1570 NSW |
Call Now
|
Visit Site
Catalyst Event Solutions offer conference management services in Sydney with additional teams in Brisbane and Melbourne. offering a personalised servi...
Absolute Party Hire
| St Peters 2044 NSW |
Call Now
|
Visit Site
Originally a family business, we have been around for more than 20 years looking after both private and corporate customers. In 2012 the company chang...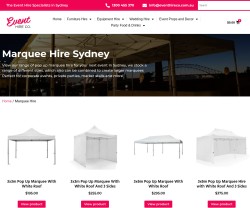 Event Hire Co
| Wetherill Park 2164 NSW |
Call Now
|
Visit Site
We have built a reputation for supplying the highest quality marquees and equipment at competitive prices. Providing a large variety of party hire equ...
Charlie Sparx Entertainment
| Marrickville 2204 NSW |
Call Now
|
Visit Site
Charlie Sparx Entertainment is a Sydney-based entertainment company that caters to all of your entertainment needs. Some of our services include Photo...
Kubarz
| Sydney 2000 NSW |
Call Now
|
Visit Site
Australia's leading supplier of mobile beverage packages, bartender and waiter hire, mobile bar hire, catering, party hire and event management serv...