What About Me?
Content suggestions
for "events"...

What's the Difference between Trade Marks and Patents?
Trade marks and patents are two forms of intellectual property (IP) that individuals and businesses...



Margaret River for Singaporean Expats
The definitive Margaret River Guide for the Singaporean Ex-Pat on holiday! You see Singaporeans and...



Whale Watching @ Hervey Bay
Hervey Bay in Queensland is the Whale Watching Capital of the World! Watch Australia's Humpbacks do...



Australian Events
Are you looking for some help with an event you want to host?...



Welcome to the "GC" - Queensland's Glorious Gold Coast!
Queensland's Gold Coast is the home city for the Commonwealth Games in 2018! Check out what's going...


Got anything YOU want to add here?

Bespoke Social
| Cromer 2099 NSW |
Call Now
|
Visit Site
To consistently deliver outstanding original events by exceeding our client's expectations. We specialise in corporate events, gala dinners, wedd...
Magic Mirror Face Painting
| Quakers Hill 2763 NSW |
Call Now
|
Visit Site
Our highly skilled and creative entertainers tailor packages to suit your party needs so that you can cherish these special moments forever. We specia...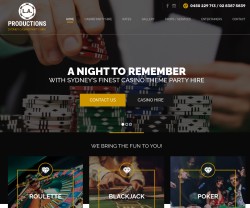 L.A. Productions
| Sydney 2000 NSW |
Call Now
|
Visit Site
We provide casino style gaming tables as well as all necessary playing equipment for private and corporate events. Our Blackjack, Roulette and Poker t...
Saber Events
| EDGECLIFF 2027 NSW |
Call Now
|
Visit Site
Saber Events is an event management company based in Sydney and Brisbane. Our professional team can assist you with organising the perfect corporate ...
Sharebooth
| Ardnell Park 2148 NSW |
Call Now
|
Visit Site
All our booths are spacious so more people can be in the booths at one time. More people means more fun! Personalised photo booth hire for your event!...