What About Me?
Content suggestions
for "office furniture"...

Australian Office Furniture
If you need furniture for the office - whether that be on the 24th floor, or in your study at home ...


Oops! That didn't work out did it?
Oh well... early days :)
Have YOU got something you'd like to add here?
Or maybe you can search for me:)
Search Again...
MGC Co
| Alexandria 1435 NSW |
Call Now
|
Visit Site
MGC Co are a Sydney based boutique fit out company specializing in Commercial, Retail and Industrial Fit Outs. We also design and construct services t...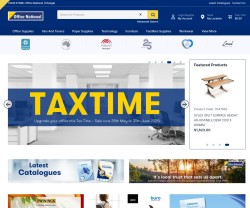 Office National
| Pymble 2073 NSW |
Call Now
|
Visit Site
Office National is Australia's largest independent office products group and a trusted source of office supplies, stationary products, office fur...
Storm Russo
| Robertson 2577 NSW |
Call Now
|
Visit Site
Storm Russo supplies Communication Boards and Office Furniture, noise reduction products, and installs offices and classrooms, in selected Australian ...
Shopfittings Direct Australia
| Prestons 2170 NSW |
Call Now
|
Visit Site
Shopfittings Direct are premier importers of quality in-house designed retail displays such pharmacy gondola shelving systems, glass display cabinets,...
Telkee Lockable Key Cabinets
| Narellan 2567 NSW |
Call Now
|
Visit Site
Telkee Key Cabinets is Australia's #1 Key Management Solution for small, medium and large businesses. For over 65 years Newbound and Telkee have ...