 Techccessorize
| Surfers Paradise 4217 QLD |
Call Now
|
Visit Site
Techcessorize is an Australian owned business and aims to bring innovative products that enhance your lifestyle. We aim to personally test many produc... GOLINX
| Burleigh Heads 4220 QLD |
Call Now
|
Visit Site
The GOLINX online store offers a range of power based products ranging from chargers and adaptors to cables and other audio accessories.<br />... Bond Air & Electrical
| Nudgee 4014 QLD |
Call Now
|
Visit Site
Bond Air & Electrical are providers of quality air conditioning and electrical services throughout greater Brisbane. We listen to our customers n...
What About Me?
Content suggestions
for "electronics"...

Australian Electrical & Electronics
Ahhh the wonder of the modern age, and all the gadgets and gizmos that abound!...


Oops! That didn't work out did it?
Oh well... early days :)
Have YOU got something you'd like to add here?
Or maybe you can search for me:)
Search Again...
Voltora Industries
| Murrumba Downs 4053 QLD |
Call Now
|
Visit Site
If you're looking for a reliable and efficient electrician in North Brisbane (including North Lakes), look no further than Volotra Industries. O... Rapid Cables
| Brendale 4500 QLD |
Call Now
|
Visit Site
We provide wholesale cables and accessories to manufacturers everywhere. Visit our site to see our extensive range or call one of our consultants toda... AustechVR
| Helensvale 4212 QLD |
Call Now
|
Visit Site
AustechVR provide Virtual Reality Headsets, 360 Degree Cameras and other companion products. We specialise in providing businesses with amazing Custom...
Todds Hifi
| Tingalpa 4173 QLD |
Call Now
|
Visit Site
Todds Hifi is Brisbane's leading retailer of Yamaha sound equipment including, Yamaha Amplifiers, Yamaha Speakers, Yamaha Sub Woofers, Yamaha Out...
VANSAT Satellite
| Mackay 4740 QLD |
Call Now
|
Visit Site
VANSAT Satellite is a leading satellite TV and VSAT internet equipment provider in Australia. They supply automatic television and internet systems fo...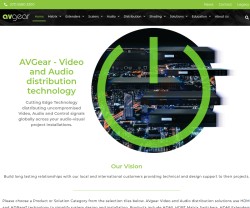 AVGear
| Arundel 4214 QLD |
Call Now
|
Visit Site
AVGear designs Cutting Edge Technology designed to distribute the latest 2K and 4K Video and Audio standards. With the largest range and equipment opt...
The Espresso Doctor Pty Ltd
| Fortitude Valley 4006 QLD |
Call Now
|
Visit Site
The Espresso Doctor is a National Service Company specialising in Espresso Equipment. We are your one stop shop for Expert & professional coffee m...