What About Me?
Content suggestions
for "funerals"...

How A Funeral Order Of Service Helps You Say Goodbye
A funeral is an opportunity to express love, to describe the feelings you held for your loved one, ...



Australian Funeral Services
When you need the right sort of help and advice at such times... You know where to go :)...


Oops! That didn't work out did it?
Oh well... early days :)
Have YOU got something you'd like to add here?
Or maybe you can search for me:)
Search Again...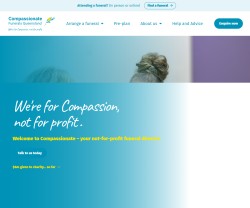 Compassionate Funerals Queensland
| Aspley 4034 QLD |
Call Now
|
Visit Site
Looking for funeral services in Brisbane? Contact us Compassionate Funeral Queensland! Compassionate Funerals QLD provide affordable and comprehensive...
Expression Coffins
| Molendina 4214 QLD |
Call Now
|
Visit Site
Design your own Coffins to add elegance to the funeral of your loved ones. You can get some of the most memorable pictures printed on the coffin.... Family Owned Funeral Directors Association
| Brisbane 4000 QLD |
Call Now
|
Visit Site
Our funeral director homes in Brisbane offer total flexibility to deliver quality personal funeral care without the profit-driven restrictions of mult... Logan Funerals
| Springwood 4127 QLD |
Call Now
|
Visit Site
The Springwood community appreciates funerals which are held in a dignified manner and have a commitment to the finest of traditions. Logan Funerals s...
Funeral Service
| Toowong 4066 QLD |
Call Now
|
Visit Site
First Forest Funeral services was established to provide a high quality, value for money funeral home to continue the ongoing and important work of ca...
e-urns.com.au
| Caloundra 4551 QLD |
Call Now
|
Visit Site
e-urns.com.au offers a range of diverse cremation urns. Please take your time, in the comfort of your home, to browse our online store and select the ...