Mod Bands
| Cannon Hill 4170 QLD |
Call Now
|
Visit Site
Mod Bands specialises in high quality Apple Watch bands and accessories, without the genuine Apple pricetag! We have over 700 different styles/colours...
Make Vana
| Brisbane 4133 QLD |
Call Now
|
Visit Site
Make Vana - Australian Handmade marketplace. Buy handmade jewelry, Silver jewellery, Crafts, fashion, cushion covers, homewares, vintage and unique it...
Gilletts Jewellers
| Alderley 4051 QLD |
Call Now
|
Visit Site
Australian jewellery manufacturer & retailer established in 1974 specialising in wedding rings, custom manufacturing and international brands. Cal...
What About Me?
Content suggestions
for "jewellery"...

Australian Jewellery and Accessories
Looking for a stunning collection of rings, necklaces, bracelets, earrings and other fashion access...


Oops! That didn't work out did it?
Oh well... early days :)
Have YOU got something you'd like to add here?
Or maybe you can search for me:)
Search Again...
Blava Jewellery
| Elanora 4221 QLD |
Call Now
|
Visit Site
Blava is an unique online brand, aiming to create beautiful and health assistive jewellery through incorporating naturally formed minerals and essenti...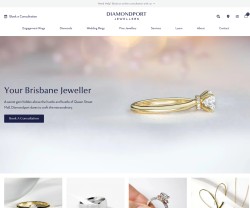 Diamondport
| Brisbane 4000 QLD |
Call Now
|
Visit Site
At Diamondport, we pride ourselves on the 5-Star service that we provide as well as making quality jewellery. We specialise in Engagement Rings in Bri...
Pierce Off
| Stafford 4053 QLD |
Call Now
|
Visit Site
Pierce Off has been serving the Australian market in body jewellery for the past 15 years. We are committed to only supplying the highest-grade produc...
Luxe.It.Fwd
| Nundah 4912 QLD |
Call Now
|
Visit Site
Premier online boutique for pre-owned authentic luxury handbags in Australia Luxe.It.Fwd's e-boutique brings authentic pre-owned designer handbag...
Dance Store
| Loganholme 4129 QLD |
Call Now
|
Visit Site
Australia's largest online Dance Store, suppling everything for your dancing needs from shoes, stockings, leotards and giftware all the way up to yo...
Avalon Crystals
| Toowoomba 4352 QLD |
Call Now
|
Visit Site
There are so many resources out there in the big, wide world (that each have the power to help you create what ever you want), and here at Avalon Crys...
Redki Wearable Art
| Brisbane 4179 QLD |
Call Now
|
Visit Site
Redki Shop: Exquisite fashionable handmade and Custom Made Fashion and bespoke Wedding and Bridal Jewellery, bridal hair accessories, silk flowers jew...