Pest Control Brisbane Gold Coast
| Marsden 4132 QLD |
Call Now
|
Visit Site
Do you have some lazy layabouts who have taken up residence in your home, some pesky critter that has infiltrated your family and isn't paying th...
Aim High Pest Control
| South Brisbane 4001 QLD |
Call Now
|
Visit Site
Professional pest control service for real estate, commercial and private owners. Covering areas of pre-purchase inspection, termite inspections, pest...
Swarm Pest Control
| Mansfield 4122 QLD |
Call Now
|
Visit Site
Our treatments are odourless and completely safe for your Pets and Children. You can expect no nasty suprises when it comes to paying our Invoice as y...
What About Me?
Content suggestions
for "pest"...

Choosing the Best Water Tank For You
If you're thinking of significantly saving on your water bills while contributing to Australia's wa...



5 End of Lease Cleaning Tips to Get Your Bond Back
If you're patient, detail-oriented and willing to put the time in, getting your bond back in full s...



A Room by Room Guide to Keeping Pests Out of Your Home
When it comes to those pesky little insects that just love to invade our living spaces, sometimes t...



Timber or Composite Decking For Your Home
The BIG Question for Customers - Do I go with natural timber or new composite material for my decki...



Australian Pest Control Services
Plagued by pests? Spiders? Cockies? Ants? These critters are bad for your health, so declare war on...


Got anything YOU want to add here?

Pro Pest Control Brisbane
| Clayfield 4011 QLD |
Call Now
|
Visit Site
At Pro Pest Control Brisbane we are glad to be a company that has maintained solid reputation with our clients over the 10 years we have been in the m...
Pest-Ex Brisbane
| Brisbane 4064 QLD |
Call Now
|
Visit Site
Pest Ex provides safe, fast and effective pest control services across all suburbs of Brisbane.We have been servicing Brisbane since 2006, providing p... Safeclean Pest & Carpet Cleaning Services
| Capalaba 4157 QLD |
Call Now
|
Visit Site
SafeClean is a family owned business providing high quality carpet cleaning and pest control services for more than 20 years. With our fleet of fully ...
Premier1 Pest Control
| Battery Hill 4551 QLD |
Call Now
|
Visit Site
We are a local family owned and run business specializing in general pest control and the eradication of termites from your home We install termite ba...
ProScare
| Helensvale 4212 QLD |
Call Now
|
Visit Site
ProScare is a leading Australian supplier of pyrotechnic bird deterrent systems, launchers and cartridges assisting industries in effective bird mitig...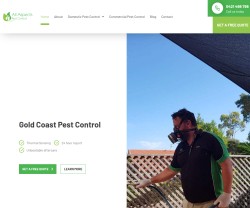 All Aspects Pest Control
| Biggera Waters 4216 QLD |
Call Now
|
Visit Site
We offer affordable and professional pest control solutions for the commercial and domestic market. Servicing Biggera Waters and surrounding areas we ...
Termite Solutions
| Manly West 4179 QLD |
Call Now
|
Visit Site
Suspect you have a termite problem? Termite Solutions provides expert termite inspection and treatment services including thermal imaging from Brisban...
Buzzkill the Pest Exterminators
| Banyo 4014 QLD |
Call Now
|
Visit Site
Buzzkill the Pest Exterminators are proud to be able to boast three generations in the pest control industry. Why use us? by using Buzzkill pest contr...
PestX
| Parkhurst 4702 QLD |
Call Now
|
Visit Site
Friendly, Expert, Safe and Professional Pest Control for both household and commercial clients, involving the treatment of pests like rodents, cockroa...
AU Pest Control
| Caboolture 4510 QLD |
Call Now
|
Visit Site
AU Pest Control offer a complete range of pest control services including pest inspections, pest control treatments, pest removal and the ongoing pest...
Mosquito Slayer Ltd
| Mermaid Waters 4218 QLD |
Call Now
|
Visit Site
Winners of Australian Sustainability award, Mayor award Gold Coast, QLD export award, CEQ Century International Quality Award Geneva 2012Professional ...
All Bugs
| Holland Park West 4121 QLD |
Call Now
|
Visit Site
One of the leading pest management and control service providers, All Bugs Termite Management Services has been in business for the last 30 years serv...