What About Me?
Content suggestions
for "funerals"...

How A Funeral Order Of Service Helps You Say Goodbye
A funeral is an opportunity to express love, to describe the feelings you held for your loved one, ...



Australian Funeral Services
When you need the right sort of help and advice at such times... You know where to go :)...


Oops! That didn't work out did it?
Oh well... early days :)
Have YOU got something you'd like to add here?
Or maybe you can search for me:)
Search Again...
Addison Memorials
| Cheltenham 3192 VIC |
Call Now
|
Visit Site
A memorial is a crucial element of the grieving and celebration process, as well as forming a gathering place for family and friends. Our family busin...
Candlepines Undertakers of Distinction Pty Ltd
| Laverton 3028 VIC |
Call Now
|
Visit Site
"A Family Owned and Operated Australian Funeral Company". When you lose someone you love what you don't need is someone else telling you how it ...
Advanced Stone
| Campbellfield 3061 VIC |
Call Now
|
Visit Site
Unique memorial stone to remember and give tribute to your loved one from Advanced Stone. We have experienced and qualified Stone Masons who are exper...
Caskets Direct Pty Ltd
| West Footscray 3012 VIC |
Call Now
|
Visit Site
Online store selling funeral products direct to the public at discounted prices. Products include, cremation urns, cremation jewellery and coffins and...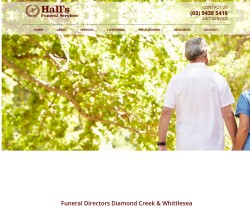 Funeral Directors Melbourne
| Victoria 3080 VIC |
Call Now
|
Visit Site
Hallsfunerals offers friendly and comfortable environment with best funeral parlour arrangement by expert funeral directors in Melbourne. Find out the...
Superior Family Funeral Care
| Frankston South 3199 VIC |
Call Now
|
Visit Site
Superior Family Funeral Care are your caring funeral directors in Frankston South, Victoria. If your loved one has passed away, please accept our deep...