 RAFS Mechanical Repairs
| Dandenong South 3175 VIC |
Call Now
|
Visit Site
We're a family-owned & operated car & truck mechanic business with family values to match. Our background in the trucking business and ge... mechanicsmelbourne
| Collingwood 3066 VIC |
Call Now
|
Visit Site
mechanicsmelbourne a local Melbourne business in Collingwood providing a mobile mechanical vehicle service at roadway or customers preferred location,...
J&L Perri Automotive
| Wodonga 3690 VIC |
Call Now
|
Visit Site
J&L Perri is a mechanical workshop dealing with Petrol, diesel and LGP servicing and repairs All things mechanical from radiators, suspension, bra...
What About Me?
Content suggestions
for "mechanics"...

Australian Motor Mechanics
Got something wrong with your car? Making a few noises it shouldn't be? Then go see a professional ...


Oops! That didn't work out did it?
Oh well... early days :)
Have YOU got something you'd like to add here?
Or maybe you can search for me:)
Search Again...
Nota Motors
| Hallam 3803 VIC |
Call Now
|
Visit Site
"Nota Motors is accredited by Vic Roads & VACC with over 30 years experience in providing fleet services and repairs to companies and individ...
ALM Automotive
| Oakleigh South 3167 VIC |
Call Now
|
Visit Site
ALM Automotive are your automotive specialists offering all general and logbook servicing of all makes and models.We are based in Oakleigh South and s...
Campbellfield Automotive
| Campbellfield 3061 VIC |
Call Now
|
Visit Site
Full mechanical workshop specializing in 4wd servicing including logbook servicing, dyno tuning and roadworthy certificates for all makes and models (...
Ravenhall Automotive Services
| Ravenhall 3023 VIC |
Call Now
|
Visit Site
Ravenhall Automotive has serviced the Ravenhall, Caroline Springs, Sunshine, Deer Park and surrounding areas for many years, providing services such a...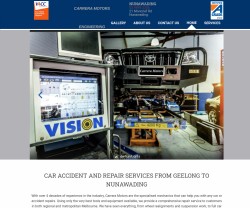 Carrera Motors
| Nunawading 3131 VIC |
Call Now
|
Visit Site
Carrera motors are a specialized auto repair shop that deal with insurance work and private repairs. Our services include but are not limited to, SRS ...
BHM Automotive
| Moorabbin 3189 VIC |
Call Now
|
Visit Site
BHM automotive is a one stop car shop for your 4wd and car or any make or model. With services such like, air conditioning, Roadworthy, tyres, batteri... Sangate Services
| Clayton 3168 VIC |
Call Now
|
Visit Site
We aim to deliver the best service to all our customers no matter what car you drive. With all the latest tooling and technology, we are well equipped...