What About Me?
Content suggestions
for "dentist"...

Unhealthy Ways Of Consuming Fruit For Your Teeth
Fruit. It's an excellent source of vitamins, minerals and antioxidants. Eating fruit daily can redu...



How Do You Choose a Dentist?
We all understand the need of proper dental care and its benefits. However many of us remain unawar...



Australian Dentists
Find New Australian Dentists and Dental Services Websites right here @ Come On Aussie...


Oops! That didn't work out did it?
Oh well... early days :)
Have YOU got something you'd like to add here?
Or maybe you can search for me:)
Search Again...
Dentista Dental Centre
| Noranda 6062 WA |
Call Now
|
Visit Site
Hi and Welcome to Dentista Dental Centre. My Name is Dr Carla Graneri and I am a Dentist at Dentista Dental Centre in Noranda, Western Australia. I un...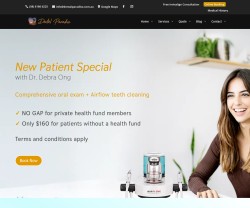 Excel Dental Care
| Osborne Park 6017 WA |
Call Now
|
Visit Site
Excel Dental Care are your trusted Perth Dentists providing general, cosmetic and emergency dental treatments and dental care. Committed to provide yo...
Oasis Orthodontics
| Perth 6030 WA |
Call Now
|
Visit Site
We offer a wide range of orthodontic services, at Oasis Orthodontics. We are committed to your well-being. Whether you're looking for treatment ...
Discount Dentures
| Joondalup 6027 WA |
Call Now
|
Visit Site
For emergency denture repairs in Perth and all other denture services in Perth & Joondalup contact the friendly team at Discount Dentures today...
123 Dental
| West Leederville 6007 WA |
Call Now
|
Visit Site
123 Dental Perth offer a range of general and cosmetic dental services to patients of all ages. Whether you need a simple check up and clean, laser de...
Hillarys Dental Care
| Hillarys 6025 WA |
Call Now
|
Visit Site
We offer a wide range of dental services, including, cosmetic dentistry, general dentistry, implants, dentures, invisalign, prosthodontics.We believe ...
Woodvale Dental Surgery
| Woodvale 6026 WA |
Call Now
|
Visit Site
Woodvale Dental Surgery offers a variety of general dentistry services for patients of all ages. From basic dental examinations, to fitting fillings ...