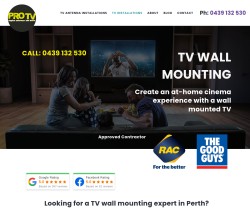 Pro TV
| Connolly 6027 WA |
Call Now
|
Visit Site
Affordable TV wall mounting and digital TV antenna installation in Perth & Joondalup. Owner operator James Howard will personally mount your TV or... RF Waves Australia
| Hamersley 6022 WA |
Call Now
|
Visit Site
Professional Australia based company offering industrial electronic module repairs. Highly specialised in Audio amplifier repair and do custom builds ...
Sensorium Audio Visual
| Rockingham 6168 WA |
Call Now
|
Visit Site
Sensorium AV, is a WA based company focused on home improvements, including home theatre, networking and home automation, design, supply and installat...
What About Me?
Content suggestions
for "electronics"...

Australian Electrical & Electronics
Ahhh the wonder of the modern age, and all the gadgets and gizmos that abound!...


Oops! That didn't work out did it?
Oh well... early days :)
Have YOU got something you'd like to add here?
Or maybe you can search for me:)
Search Again...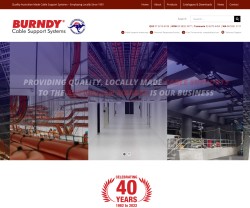 Burndy Cable Support Systems
| Welshpool 6106 WA |
Call Now
|
Visit Site
Burndy CSS is a commercial construction applications company with offices throughout Australia. Call (08) 9351 3111 today or visit our website burndyc... AVCOM
| North Perth 6006 WA |
Call Now
|
Visit Site
Perth's number 1 seller and installer of Audio Visual products...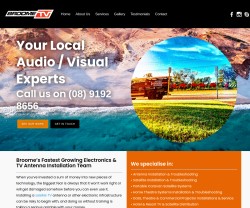 Broome TV & Audio Solutions
| Broome 6725 WA |
Call Now
|
Visit Site
At Broome TV & Audio Solutions, we are focused on providing exceptional technical services with the highest levels of customer satisfaction & ...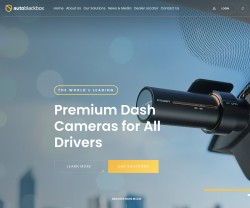 Car Dash Cameras Australia
| Mount Hawthorn 6016 WA |
Call Now
|
Visit Site
Car Dash Cameras are becoming a well known must have product for motorists in Australia. Our products are leading the market in performance and techno...
Joondalup TV Antennas
| Perth 6028 WA |
Call Now
|
Visit Site
For TV Antenna Installation in Joondalup Perth call Richard today on 0404 617 323 for personal service and fixed up front quotes. You can also book on...
Sentinal Group
| Malaga 6090 WA |
Call Now
|
Visit Site
Our Electrical Division has extensive experience in the construction and mining industries. We have fully qualified electricians available to meet you...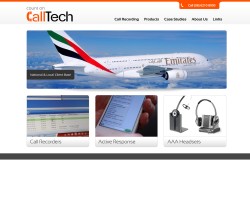 CallTech Pty Ltd
| East Perth 6004 WA |
Call Now
|
Visit Site
CallTech is an experienced supplier of call recorders, emergency response systems and telephone headsets. CallTech has been suppying and maintaining ...