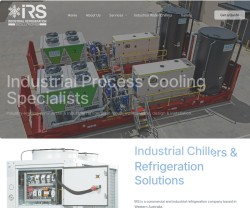 IRS Refrigeration Solutions Pty Ltd
| Wangara 6065 WA |
Call Now
|
Visit Site
IRS Refrigeration Solutions offer reliable commercial and industrial refrigeration maintenance and 24/7 emergency repairs. We use only highly trained...
Awning Republic
| East Victoria Park 6101 WA |
Call Now
|
Visit Site
Awning Republic is based in Perth WA and provide Commercial quality Awnings, Architectural Umbrellas, Shade Sails, Retractable Roofs and Outdoor Blind...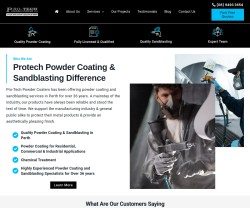 Pro-Tech Powdercoaters
| Maddington 6109 WA |
Call Now
|
Visit Site
Pro-Tech Powdercoaters Perth are the experts in powder coating and sand blasting in Perth. We offer services for residential, commercial and industria...
What About Me?
Content suggestions
for "engineering"...

Australian Engineering
Engineering has existed for thousands of years... Way back in ancient times as humans created such ...


Oops! That didn't work out did it?
Oh well... early days :)
Have YOU got something you'd like to add here?
Or maybe you can search for me:)
Search Again...
JMAC Engineering
| Pingelly 6308 WA |
Call Now
|
Visit Site
We are the local steel fabrication and engineering professionals. Our team is dedicated and passionate about creating a quality product that will suit...
Phoenix Metal Form
| Welshpool 6106 WA |
Call Now
|
Visit Site
we manufacture quality steel components to the building industry in Western Australia. Offering friendly and personalised service for all your steel n...
JB Patios and Fabrication
| Malaga 6090 WA |
Call Now
|
Visit Site
Professional patio and steel fabrication company committed to quality. Based in Malaga, WA and servicing the Perth region with premium fabrication ser...
National Industrial Engravers
| Forrestdale 6112 WA |
Call Now
|
Visit Site
We pride ourselves on not only providing the best service, but also the cheapest prices in the whole of Australia. Whatever you're paying elsewhe...
A.B. Steel Fabrication
| Osborne Park 6017 WA |
Call Now
|
Visit Site
A.B. Steel Fabrication is a leading manufacturer and supplier of structural steel fabrication, balustrading, wrought iron balustrades, stainless steel...
Drage Boilermaking Services
| Boulder 6432 WA |
Call Now
|
Visit Site
Drage Boilermaking Services, is an engineering firm offering complete solutions, from conception to design and manufacturing, provides you with excell...
Pedco
| WELSHPOOL 6106 WA |
Call Now
|
Visit Site
Pedco Engineering is a steel forming and fabrication business operating since 1987, mainly in medium steel plate. Since its purchase from the founder ...