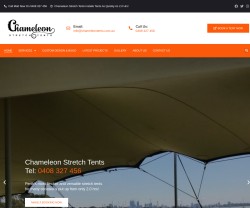 Chameleon Tents
| Hamilton Hill 6163 WA |
Call Now
|
Visit Site
Chameleon Stretch Tents is provide the most versatile, flexible and biggest Tents in Perth. Because of the flexible design of our Stretch Tents they a... QV1 Conference Centre
| Perth 6000 WA |
Call Now
|
Visit Site
Located with the QV1 premium grade office tower, QV1 conference centre is the perfect spot for your next corporate event, meeting, collaborative train... Creative Marquees
| Wangara 6065 WA |
Call Now
|
Visit Site
Innovation driven by a passion for high technology materials and an affinity for design; we provide easy, beautiful, sustainable shelter solutions for...
What About Me?
Content suggestions
for "events"...

What's the Difference between Trade Marks and Patents?
Trade marks and patents are two forms of intellectual property (IP) that individuals and businesses...



Margaret River for Singaporean Expats
The definitive Margaret River Guide for the Singaporean Ex-Pat on holiday! You see Singaporeans and...



Whale Watching @ Hervey Bay
Hervey Bay in Queensland is the Whale Watching Capital of the World! Watch Australia's Humpbacks do...



Australian Events
Are you looking for some help with an event you want to host?...



Welcome to the "GC" - Queensland's Glorious Gold Coast!
Queensland's Gold Coast is the home city for the Commonwealth Games in 2018! Check out what's going...


Got anything YOU want to add here?

Widdesons
| o'connor 6163 WA |
Call Now
|
Visit Site
We work closely with event and party planners to ensure every aspect of an event is covered, from the selection of the marquee and staging equipment t... Australian Event Protection
| Subiaco 6008 WA |
Call Now
|
Visit Site
AEP is a specialist global security company based in Perth, Western Australia. Established in 2005 as a leading provider of event security services, A... Viva Vegas Party Entertainment Perth
| Scarborough 6019 WA |
Call Now
|
Visit Site
Viva Vegas Australia is a dedicated entertainment company based in Perth which provides a personal service to each and every one of our clients. Wheth...
QV.1 Perth
| Perth 6000 WA |
Call Now
|
Visit Site
QV.1 is a premium grade office tower, situated in Perth's premier business district at the iconic St Georges Terrace. The tower is within walking di... AAA Productions
| Perth 6154 WA |
Call Now
|
Visit Site
AAA Productions has been providing Event Management and high end Pro-Audio services in Perth since 1991. We specialise in Audio Hire & Sales, Audi...
Game Vault
| Perth 6000 WA |
Call Now
|
Visit Site
Are you looking for the ultimate experience for your next birthday party or special event in Perth?Game Vault is Perth's only Mobile Video Gaming Th...
Phenomenon Event Services
| Osborne Park 6017 WA |
Call Now
|
Visit Site
Phenomenon Event Services has earned a reputation for creative excellence and service in the events industry....