What About Me?
Content suggestions
for "landscaping"...

Water Pump Selection Guide : Typing, Sizing, Pricing
Water pumps with small diesel engines are typically less expensive to run than pumps using other ty...



A Room by Room Guide to Keeping Pests Out of Your Home
When it comes to those pesky little insects that just love to invade our living spaces, sometimes t...



Landscaping & Gardening
Some people spend a small fortune on making the outsides of their property look pretty snazzy! And ...



Australian Lighting
"Lighting is the deliberate use of light to achieve a practical or aesthetic effect." And we play w...



Australian Excavation & Earthmoving
You need a hole dug! Who still gets the pick and shovel out? No way! Not any more. Call in the big ...


Got anything YOU want to add here?

Aquascape Supplies Australia
| Yandina 4561 WA |
Call Now
|
Visit Site
Aquascape Supplies are Australia's source for pond equipment. We offer professional advice from experienced pond designers and builders and can a...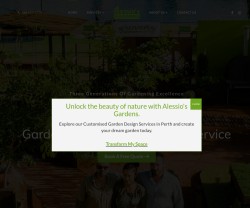 Alessio's Gardens
| East Victoria Park 6981 WA |
Call Now
|
Visit Site
At Alessio's Gardens, we are on a mission to transform the gardens of Perth and WA, one patch at a time. With extensive experience with gardening...
Perth Trade Centre
| Kardinya 6163 WA |
Call Now
|
Visit Site
Covering every part of your residential or commercial landscape building project. We are installers of quality sourced landscape products, and all of ...
Bibra Lake Soils
| Bibra Lake 6163 WA |
Call Now
|
Visit Site
Bibra Lake Soils is Perth's leading supplier of garden supplies. We stock a massive range of soils, mulch, pavers, limestone blocks, aggregates, ...
Rex Turf
| Kelmscott 6111 WA |
Call Now
|
Visit Site
For artificial turf Perth from a family owned WA business, get in touch with Rex Turf. Our fake lawn for Perth homes and businesses is top quality and...