 Elite Tune
| Welshpool 6106 WA |
Call Now
|
Visit Site
Elite Tune is Perths best and most central 4WD tuning shop. Offering a range of 4WD performance upgrades Elite Tune is your one-stop-shop. Currently m...
Autoplus WA
| Midvale 6056 WA |
Call Now
|
Visit Site
Autoplus WA is a family-owned business providing quality auto services to drivers in Perth's outer eastern suburbs for more than 25 years. We pr... Mandurah Rockingham Mobile Mechanic
| Mandurah 6210 WA |
Call Now
|
Visit Site
Mobile Mechanic service in the Peel and Kwinana regions of Western Australia. Offering a complete mechanical range of services such as car repairs / v...
What About Me?
Content suggestions
for "mechanics"...

Australian Motor Mechanics
Got something wrong with your car? Making a few noises it shouldn't be? Then go see a professional ...


Oops! That didn't work out did it?
Oh well... early days :)
Have YOU got something you'd like to add here?
Or maybe you can search for me:)
Search Again...
Walkers Plant Maintenance
| Wangara 6065 WA |
Call Now
|
Visit Site
Walker's Plant Maintenance specialises in mobile diesel mechanic services, auto electrical repairs and mobile plant repairs. We've got the exp...
Mobile Mechanic Perth
| Perth 6000 WA |
Call Now
|
Visit Site
Perth Mobile Mechanics service is one of a kind. Our mechanical workers are experienced in the industry and the best part is we are fully mobile - yes...
QuickStop Brake & Clutch Centre
| Balcatta 6021 WA |
Call Now
|
Visit Site
We are Balcatta's premier auto repairer, offering all mechanical servicing for all makes and models. Family owned and operated for 30 years. Call...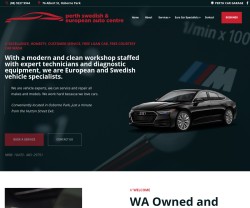 Perth Swedish Auto Centre
| Osborne Park 6017 WA |
Call Now
|
Visit Site
Perth Swedish Auto offers specialized car services for your luxury vehicles like Saab, Volvo & BMW. Schedule your next car services to get a high ...
Sharp Autocare
| Bibra Lake 6163 WA |
Call Now
|
Visit Site
At Hyundai Care we pride ourselves in providing the best quality service for your Hyundai logbook repair. All makes and models are serviced though so ...
West Leederville Autos
| West Leederville 6007 WA |
Call Now
|
Visit Site
West Leederville Autos are professional motor mechanics specialising in car repairs, car servicing and maintenance. We also look after European and pr...
I.D. Automotive Repairs
| Port Kennedy 6172 WA |
Call Now
|
Visit Site
Looking for a Mechanic in Rockingham or the Port Kennedy Area. At ID Automotive Repairs we provide servicing, auto electrical and mechanical repairs...
Evanco Mechanical
| East Bunbury 6230 WA |
Call Now
|
Visit Site
Evanco Mechanical, we are providing the finest personal service to customers, maintaining the best diagnostic equipment and vehicle data, proven relia... BP Woodvale
| Woodvale 6026 WA |
Call Now
|
Visit Site
At BP Woodvale Auto Care and BP Padbury Auto Care, we service and repair all vehicle makes and models, including fleet and commercial vehicles. Plus, ...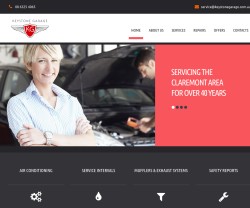 Keystone Garage
| Claremont 6010 WA |
Call Now
|
Visit Site
Keystone Garage, offers quality mechanical repairs and servicing on your vehicle, we also service brakes, mufflers and exhausts as well as log book se... Automobile Germany Pty Ltd
| Bayswater 6053 WA |
Call Now
|
Visit Site
Automobile Germany is a well-established car service and repair centre in Perth. We have been servicing and repairing cars in Perth for over 20 years.... Car Service Perth
| Ardross 6153 WA |
Call Now
|
Visit Site
Auto Masters offers car service around Western Australia such as Carbon Clean Service, High-Tech Tune, Engine Diagnosis and more. The business has 30 ...