Thought I'd try to be really "rad" and use teen "wordz" here to get into the mood…
Thankfully I gave up on that idea as it was starting to look like the wurst "Dad" joke eva!
These sites are hopefully for you, if you're a teen in Aus (although I might have to move a few around a little...)
Accelerated Learning
| Nedlands 6009 WA |
Call Now
|
Visit Site
Accelerated Learning (formerly Perth Academy of Science) is an educational support service providing professional private tutoring in all levels of sc...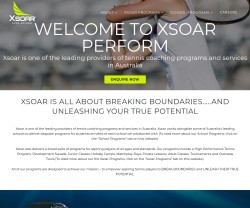 XSOAR Perform
| Melbourne 3004 VIC |
Call Now
|
Visit Site
ARE YOU AN ATHLETE, TEAM OR ORGANISATION AIMING TO BREAK BOUNDARIES? XSOAR delivers innovative and dynamic peak performance solutions that are tailore...
Beam Tutors Sydney
| Quakers Hill 2763 NSW |
Call Now
|
Visit Site
Beam Tutors located in Sydney aiming to teach and assist school students from year 7 to 12. Students are benefiting for their individual study needs f...
What About Me?
Content suggestions
for "teenagers"...

Our Feeds
Grab our feeds of all the latest stuff added to Come On Aussie....



Websites and Information Just for Teens
Thought I'd be rad and use teen "wordz" here… and then thankfully gave up on that idea! These sit...


Oops! That didn't work out did it?
Oh well... early days :)
Have YOU got something you'd like to add here?
Or maybe you can search for me:)
Search Again...
West End Music Academy
| Perth 6017 WA |
Call Now
|
Visit Site
Welcome to west end music academy, music school Perth. We are a coalition of professionally trained performing artists who have vast experience in the...
VR Plus
| Carlton 3053 VIC |
Call Now
|
Visit Site
VR Plus is a VR game arcade which aims to offer the ultimate virtual reality gaming experience in Melbourne. Our multi-player VR bays allow a maximum ...
School Products Australia
| Cannington 6107 WA |
Call Now
|
Visit Site
School Products Australia is the educational division of a 100% Australian family owned business that has been in operation since 1986 providing an ex...
Sydney Model Agency
| Sydney 2001 NSW |
Call Now
|
Visit Site
The Sydney Model Agency and Etiquette College has developed a reputation as a highly successful modeling agency and finishing school in Sydney. We off...
Little Devils Circus
| Moorabbin 3189 VIC |
Call Now
|
Visit Site
Looking for a kids birthday party venue in Melbourne that your kids will love? Or do you need to keep them entertained over school holidays in our sch...
Castle and Cubby
| Heatmont 3135 VIC |
Call Now
|
Visit Site
We build unique, authentic and rustic kids cubby houses, play equipment and accessories from 100% recycled materials. We deliver and build in Melbourn...
Go Skitz
| Ravenhall 3023 VIC |
Call Now
|
Visit Site
The electric scooters listed on goskitz.com.au are suitable for children who are over 6 years of age. If you would like any more information on a kids...
Rawson Village Resort
| Pinnacle Drive 3825 VIC |
Call Now
|
Visit Site
Rawson Village, we cater for school camps, functions, conferences, group accommodation and more. Located in Rawson, please call to make a booking or f...
School Mum
| Margate 4019 QLD |
Call Now
|
Visit Site
There are thousands of experts who claim to know the best thing you should be doing for your child but depending on who you're listening to and what...
Ezy Math Tutoring Brisbane
| Brisbane 4000 QLD |
Call Now
|
Visit Site
Ezy Math Tutoring helps our students to learn how to understand so that they will have the study skills that will enable them to excel, not only in ma...
Ezy Math Tutoring Perth
| Perth 6000 WA |
Call Now
|
Visit Site
EZY Math Tutoring believes that improvement in math skills can allow our students the chance to realize their maximum potential in school as well as w...
Ollie's Room
| Port Lincoln 5606 SA |
Call Now
|
Visit Site
Ollie's Room has everything your child needs to make his room a little haven of happiness! Ollie's Room has everything from adorable kids t...