What About Me?
Content suggestions
for "builders"...

👍 101 Australian Website Directories - A Detailed Analysis
We looked at 101 Australian Web Directories and subjected them to 37 different tests to determine h...



Australian Builders
Looking for an Aussie builder to take on a construction job or a rennovation? These people reckon t...


Oops! That didn't work out did it?
Oh well... early days :)
Have YOU got something you'd like to add here?
Or maybe you can search for me:)
Search Again...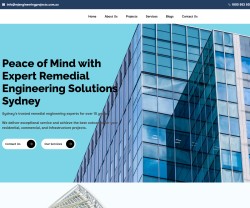 MJ Engineering Projects
| Sydney 2000 NSW |
Call Now
|
Visit Site
MJ Engineering Projects is a remedial works consultant firm based in Sydney. Focusing on the successful delivery of remedial repair projects on behalf...
SAS International
| Sydney 2000 NSW |
Call Now
|
Visit Site
SAS International is a leading British manufacturer of quality metal ceilings and bespoke architectural metalwork. Installed in iconic, landmark buil...
Quality Retaining Walls
| Kincumber 2251 NSW |
Call Now
|
Visit Site
Quality Retaining Walls Central Coast specialise in timber retaining walls. We are a local company that has over 20 years building experience. We are ...
Carpark King
| Kirrawee 2232 NSW |
Call Now
|
Visit Site
With over 60 years combined experience on our hand-picked team, Carpark King has the ability to offer a level of service and quality in the Car Park L...
ABC Frames and Trusses
| ST MARYS 2760 NSW |
Call Now
|
Visit Site
PREFABRICATED TIMBER WALL FRAMES:<br />- H2 grade timber, with mechanical precision<br />- Dressed timber for termite and weather protecti... Goal Zero Thermal
| Arcadia Vale 2283 NSW |
Call Now
|
Visit Site
Goal Zero is a small company. Passionate about working towards a sustainable future. Do you need a NatHERS Thermal Performance Assessment or BASIX Cer...