What About Me?
Content suggestions
for "health"...

What your Feet Say About You
Your feet are your body's foundation, so it's no wonder that they may provide the first clues of a ...



An Eye Check-Up Could Save Your Life!
As far as regular health checks go, an eye exam is one of the simplest – and it can usually be bu...



How to Ensure Workplace Safety for Employees
As an employer, you need to create a safe environment for your employees. You need to make them fee...



Why Every Aussie Backyard Needs A Slimline Water Tank
If you think of water tanks as something you'll only see out in countryside farms, we've got great ...



Impact of COVID on work practices for Lawyers in Caboolture
The current pandemic has disrupted many industries in Australia including for lawyers and solicitor...



Help yourtown to Help Young Aussies
Australian millennials get a bad rap. What most Australians don't know is that even under the best ...


Got anything YOU want to add here?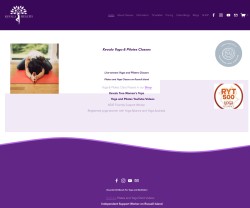 Kevala Health trading as Jodie Manning
| Russell island 4184 QLD |
Call Now
|
Visit Site
Live Stream Yoga and Pilates classes you can do at home. Classes are slow, with weekly new themes and suitable for beginners and seniors. Experienced...
Living Illumination
| Southport 4215 QLD |
Call Now
|
Visit Site
Transform Your Life! Our Workshops, Courses and Events include meditation and energy healing techniques that can be simply mastered. Your evaluation o...
Ripple Massage Day Spa And Beauty
| Tamborine Mountain 4272 QLD |
Call Now
|
Visit Site
Love an awesome massage? Would love not to go out but would prefer a fully accredited professional mobile massage therapist to come to you? Ripple Mas...
Norse Vapes
| Ashmore 4214 QLD |
Call Now
|
Visit Site
Get the Best E Liquid and E Juice right here at Norse Vapes. We have the biggest range of Australian made vape juice and we also stock a wide range of...
Atherton Optometrist
| Atherton 4883 QLD |
Call Now
|
Visit Site
Atherton Optometrist is your local, and proudly independent optometry clinic servicing the Atherton Tablelands and beyond. Janine and Jeffrey provide...
Advanced Fertility Solutions
| Mackay 4740 QLD |
Call Now
|
Visit Site
We sell Chinese herbal medicine to clients around the world to solve many menstrual and fertility issues for both men and women.<br />...