 Absolute Bathroom Renovations
| Cranbourne West 3977 VIC |
Call Now
|
Visit Site
Cranbourne Bathroom Renovations Our goal is to create beautiful bathrooms with results you'll love at realistic price points. Absolute Bathroom R...
Elite Bathroom Renovations Melbourne
| Footscray 3011 VIC |
Call Now
|
Visit Site
We are a group of talented trades people who specialize in wet area waterproofing, bathroom renovations and balcony repairs in Melbourne. We have tile...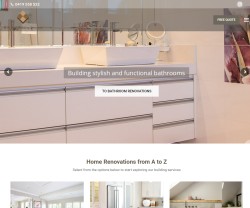 R.A. Paul Building Services
| BRIGHTON EAST 3187 VIC |
Call Now
|
Visit Site
We specialise in small to medium scale renovation projects. If you consider a home renovation for any reason including increasing the property value b...
What About Me?
Content suggestions
for "bathroom"...

Mosaic Tiles - Making A Good Purchase
For an exhilarating interior design, why not integrate even just a few pieces of glass mosaics? A t...



Six Best Renovations to Add Value to Your Home
Here are six of the best renovations to add value to your home.
...



5 End of Lease Cleaning Tips to Get Your Bond Back
If you're patient, detail-oriented and willing to put the time in, getting your bond back in full s...



A Room by Room Guide to Keeping Pests Out of Your Home
When it comes to those pesky little insects that just love to invade our living spaces, sometimes t...



Australian Bathrooms
Your bathroom is the one place in the whole world where you need to feel "at home" and comfortable....



Australian Tiles & Tiling Services
It's fascinating watching a tiler at work, transforming the ugly duckling (your old bathroom) into ...


Got anything YOU want to add here?

Versatile Bathrooms
| Greensborough 3088 VIC |
Call Now
|
Visit Site
At Versatile Bathrooms we offer expert bathroom renovations to the residents of Melbournes North and North Eastern suburbs. Managing director Rob Priv...
Xtreme Seal
| Oakleigh 3166 VIC |
Call Now
|
Visit Site
With over 25 years of experience in the building industry, this Australian owned company can repair your leaking shower and balcony without removing a...
My Bath
| Camberwell 3124 VIC |
Call Now
|
Visit Site
This family-owned company provides bathroom, laundry and kitchen renovations to homes across the southeastern suburbs of Melbourne. From start to fini...
Ultimate Kitchens & Bathrooms
| Hawthorn East 3124 VIC |
Call Now
|
Visit Site
Ultimate Kitchens & Bathrooms will work with you to design and create a kitchen or bathroom that is not only beautiful but also an amazingly funct...
Allure Bathrooms Dandenong
| Dandenong 3175 VIC |
Call Now
|
Visit Site
Allure's mission is to provide only the highest quality, contemporary bathroom products at affordable prices.... Melbourne Complete Bathrooms
| Richmond 3121 VIC |
Call Now
|
Visit Site
Melbourne Complete Bathrooms have been transforming bathrooms for over 15 years. We take great pride and passion in constructing the bathroom you desi...
Top Bathroom Renovations Melbourne
| South Melbourne 3205 VIC |
Call Now
|
Visit Site
Top Bathroom renovations Melbourne provides exceptional bathroom renovation service Melbourne wide. If you need bathroom renovations in Melbourne east...
Matrix Bathrooms
| Yarraville 3013 VIC |
Call Now
|
Visit Site
Matrix Bathrooms are devoted to provide bathroom renovation services that exceed the customer expectations on style, quality, design etc. Our experien...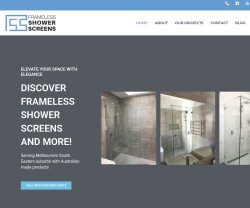 Frameless Shower Screens Melbourne
| Ringwood North 3134 VIC |
Call Now
|
Visit Site
Welcome to Frameless shower screens Melbourne. Frameless glass shower screens come in different varieties, which comprise of identical premium shower... Axess Trading Pty Ltd
| Ferntree Gully 3156 VIC |
Call Now
|
Visit Site
Professional Australia-based healthcare hardware company offering cost-effective premium hand shower systems , grab rails , shower seats ,shower curta...
Better Living Products
| Mount Waverley 3149 VIC |
Call Now
|
Visit Site
Better Living Products markets some of the world's finest DIY bathroom organization products such as Soap Dispensers, Shower Dispensers, Shower S...
Bright Renovation International
| Dandenong South 3175 VIC |
Call Now
|
Visit Site
Bright Renovation International is an Australian Registered, Melbourne Based Company with showroom and warehouse locates in Dandenong South, VIC, We a...