 Nangsta Nangs Delivery
| Melbourne 3000 VIC |
Call Now
|
Visit Site
Introducing Nangsta Nangs Delivery. Your Premier Destination for Exquisite Nang Delivery Services in Melbourne Step into a world of unparalleled indu... Cake Run
| Hallam 3803 VIC |
Call Now
|
Visit Site
At Cake Run, we are passionate about delivering happiness, one delicious cake at a time. As a premier cake delivery business in Melbourne, we take pri...
Grange Meat Co.
| Alphington 3078 VIC |
Call Now
|
Visit Site
Grange Meat Co. continues to connect people and families to premium meats, to indulge in La Dolce Vita at home. Grange Meat Co. prides itself on stel...
What About Me?
Content suggestions
for "food"...

What's Hot In Kitchens?
About to build your dream home - or wanting to update your current kitchen? Here's your guide to wh...



Unhealthy Ways Of Consuming Fruit For Your Teeth
Fruit. It's an excellent source of vitamins, minerals and antioxidants. Eating fruit daily can redu...



Six Best Renovations to Add Value to Your Home
Here are six of the best renovations to add value to your home.
...



5 End of Lease Cleaning Tips to Get Your Bond Back
If you're patient, detail-oriented and willing to put the time in, getting your bond back in full s...



A Room by Room Guide to Keeping Pests Out of Your Home
When it comes to those pesky little insects that just love to invade our living spaces, sometimes t...



Margaret River for Singaporean Expats
The definitive Margaret River Guide for the Singaporean Ex-Pat on holiday! You see Singaporeans and...


Got anything YOU want to add here?

HLTH Code Australia
| Notting Hill 3168 VIC |
Call Now
|
Visit Site
You can't have your cake and eat it too, but with HLTH Code's Keto-friendly meal replacement shakes you don't need to! When eating out ...
Micky Booth Home Delivery
| Ringwood 3134 VIC |
Call Now
|
Visit Site
Micky Booth offers the freshest fruit & vegetable home delivery service in Melbourne. Having been delivery fruit & veg for over 28 years, Mick...
Fruitastic
| Braeside 3195 VIC |
Call Now
|
Visit Site
We offer the best quality sustainably farmed Australian fresh fruit and vegetables for delivery to homes, schools, childcare centres and businesses in... The Coffee Post
| Melbourne 3000 VIC |
Call Now
|
Visit Site
At The Coffee Post we believe coffee is much more than a caffeine hit a couple of times a day. We believe that the art of creating it, the process of ...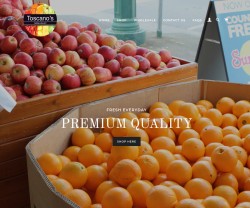 Toscano's Yarra Valley
| Healesville 3777 VIC |
Call Now
|
Visit Site
Toscano's Yarra Valley is a premium family operated business in Healesville offering the best in Fresh Fruit, Vegetables and all things food! Con...
Splendid Servings
| Cremorne 3121 VIC |
Call Now
|
Visit Site
Splendid Servings' Jo Randone has earned a reputation as one of Melbourne's leading cake designers. Her elegant cake designs have a unique a...
Dynamic Retail Solutions
| Southbank 3006 VIC |
Call Now
|
Visit Site
We help our clients get their brands on the shelves of the major retailers in Australia and overseas. The Dynamic Executive Team have worked in this i...
The Cupcake Desire
| Narre Warren 3805 VIC |
Call Now
|
Visit Site
The cupcake desire bakes fresh cupcakes and cakes for all occasions and events. With over 19 mouthwatering flavours, we will surely get you addicted. ...
Future Food
| Docklands 3008 VIC |
Call Now
|
Visit Site
Future Food - Australia's Global Food Consultancy - is one of the world's most renowned and respected food, restaurant and hospitality consu...
Feastively
| North Melbourne 3051 VIC |
Call Now
|
Visit Site
Fresh and easy ready-to-cook dinner meal kits for busy families, delivered to your door. No prep required. Cook dinner in under 15 minutes. Eat bette...
Macphees
| Port Melbourne 3207 VIC |
Call Now
|
Visit Site
Located in South Melbourne and only a five minute drive from Melbourne's CBD, MacPhee's offers your wine collection a safe and protected lon...
Sunwide Australia PTY LTD
| Springvale 3171 VIC |
Call Now
|
Visit Site
Sunwide is a wholesale supplier of bubble tea supplies in Australia. They offer a full range of bubble tea ingredients to make commercial quality bubb...