What About Me?
Content suggestions
for "home"...

Will Real Estate Crash In Australia?
It's no secret that Australian property prices have been dropping for the past few months. Are Real...



What's Hot In Kitchens?
About to build your dream home - or wanting to update your current kitchen? Here's your guide to wh...



Choosing the Best Water Tank For You
If you're thinking of significantly saving on your water bills while contributing to Australia's wa...



Why Every Aussie Backyard Needs A Slimline Water Tank
If you think of water tanks as something you'll only see out in countryside farms, we've got great ...



Impact of COVID on work practices for Lawyers in Caboolture
The current pandemic has disrupted many industries in Australia including for lawyers and solicitor...



Best Book Week Costume Ideas
Book Week is a great time for kids to have fun with dressing up as their favourite storybook charac...


Got anything YOU want to add here?

Hughes Brothers Sharpening
| Burwood 3125 VIC |
Call Now
|
Visit Site
Hughes Brothers Sharpening offer a professional mobile knife sharpening service in Melbourne. Suitable for home chefs through to commercial kitchens, ... Rug Addiction
| Kangaroo Flat 3555 VIC |
Call Now
|
Visit Site
Rug Addiction brings you meticulously crafted rugs created to enrich your space with a luxurious finish. Established in 1993, we have two decades of e...
Greenhouse Decor
| Hintingdale 3166 VIC |
Call Now
|
Visit Site
Greenhouse Decor was born out of this lack of choice and quality and strives to fill this void and offer a choice when it comes to plant stands, pot s...
The Sustainable Life Co
| Melbourne 3141 VIC |
Call Now
|
Visit Site
Born out of fierce passion, a love for the home and an unwavering commitment to do better, we (two sisters based out of Melbourne) created The Sustain...
Ballarat Arborists
| Delacombe 3356 VIC |
Call Now
|
Visit Site
It's difficult to make your front yard look good without proper care and maintenance. You might have the best intentions, but it won't last ...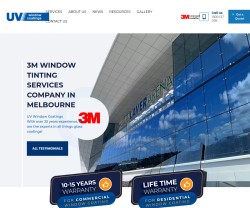 UV Window Coatings PTY LTD
| Rowville 3178 VIC |
Call Now
|
Visit Site
UV Window Coatings are long a long term Melbourne tinting business that have been servicing Victoria specialising in 3M window films. Window Tinting, ...