 Werribee Landscaping
| Werribee 3030 VIC |
Call Now
|
Visit Site
For more than 15 years, Werribee Landscaping has been at the forefront of delivering high-quality, long-lasting, and cost-effective landscaping soluti...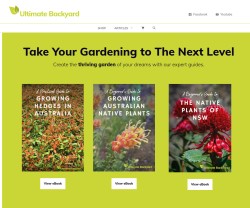 Ultimate Backyard
| Melbourne 3057 VIC |
Call Now
|
Visit Site
Ultimate Backyard is your one-stop shop for tips, tricks and inspiration to create the perfect yard and garden for your home. Here's what you&apo... South East Landscaping
| Mornington 3931 VIC |
Call Now
|
Visit Site
At South East Landscaping, we are specialists in landscape architecture, ecoscaping and construction. We provide our clients with the highest quality ...
What About Me?
Content suggestions
for "landscaping"...

Water Pump Selection Guide : Typing, Sizing, Pricing
Water pumps with small diesel engines are typically less expensive to run than pumps using other ty...



A Room by Room Guide to Keeping Pests Out of Your Home
When it comes to those pesky little insects that just love to invade our living spaces, sometimes t...



Landscaping & Gardening
Some people spend a small fortune on making the outsides of their property look pretty snazzy! And ...



Australian Lighting
"Lighting is the deliberate use of light to achieve a practical or aesthetic effect." And we play w...



Australian Excavation & Earthmoving
You need a hole dug! Who still gets the pick and shovel out? No way! Not any more. Call in the big ...


Got anything YOU want to add here?

Care For Your Garden
| Frankston 3200 VIC |
Call Now
|
Visit Site
Care For Your Garden is a team of professionals specialising in gardening and lawn maintenance services in Frankston Victoria. We always strive to off... Water Features Galore
| Epping 3076 VIC |
Call Now
|
Visit Site
When we look at adding value and change in our environment, it can be as easy as purchasing a water feature. You don't need to splash out on the ...
Landscape Geelong
| Geelong 3220 VIC |
Call Now
|
Visit Site
High quality landscaping services in Geelong Victoria. We service all types of landscaping needs such as paving, driveways, decking, retaining walls, ... Bluestone Landscape Construction
| Strathfieldsaye 3551 VIC |
Call Now
|
Visit Site
We provide Paving Retaining Walls, Drainage Irrigation Garden Lighting Turf Feature Screens Pool Fencing Planting Stone/ Rock/ Brick work Tiling &...
Zenith Home Garden Décor
| Tottenham 3012 VIC |
Call Now
|
Visit Site
Garden Pots Planter Pots, Lightweight indoor and outdoor furniture is what we specialize in and can deliver anywhere in Melbourne Australia. Pick up f...
Earth Banks Landscape Design
| Port Melbourne 3207 VIC |
Call Now
|
Visit Site
Earth Banks has been providing a full landscaping service, from design to maintenance, for both residential and commercial clients for over 20 years. ...
Unique Permeable Paving
| Narre Warren 3805 VIC |
Call Now
|
Visit Site
Choose the right team to beautify your home or business. At Unique Permeable Paving, we understand what goes into creating an exceptional exterior for...