What About Me?
Content suggestions
for "glass"...

Choosing the Best Water Tank For You
If you're thinking of significantly saving on your water bills while contributing to Australia's wa...



Mosaic Tiles - Making A Good Purchase
For an exhilarating interior design, why not integrate even just a few pieces of glass mosaics? A t...



Margaret River for Singaporean Expats
The definitive Margaret River Guide for the Singaporean Ex-Pat on holiday! You see Singaporeans and...



Australian Glass
Glass. It used to be that stuff that was mainly in windows! Now, you can find it everywhere....



Australian Humour & Jokes
What did Tarzan say when he saw the elephants coming over the hill? For this and many more silly Da...


Got anything YOU want to add here?

Tint My Windows Perth
| Perth 6000 WA |
Call Now
|
Visit Site
Are you worried about harmful UV rays? Or is your car like an oven in Summer? Window Tinting could be the perfect solution for you. The team at Tint M...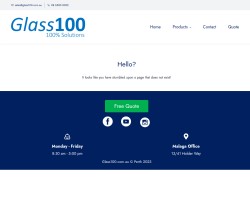 Glass 100 Kitchen Splashbacks
| Cloisters Square 6850 WA |
Call Now
|
Visit Site
Dress up your kitchen, laundry or bathroom with a stylish glass splashback from the experts in Perth - Glass 100. They can help you to design a splash...
Domain Glass + Aluminium
| Joondalup 6027 WA |
Call Now
|
Visit Site
Domain Glass is a family run business dedicated to the supply and installation of aluminium and glass products. They specialise in residential and com...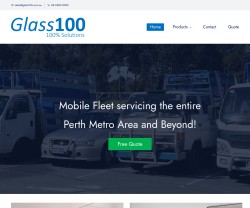 Glass100
| Cloisters Square 6850 WA |
Call Now
|
Visit Site
So you want a quote on your shower screen, splashback, mirror, pool fence, pet door, security screen or new shopfront. And you would like the quote ye...
A Splash Of Glass
| Wangara 6065 WA |
Call Now
|
Visit Site
Whether it is commercial or residential, new build or renovation A Splash of Glass will accomplish all the work efficiently. For more information visi...