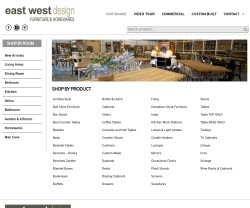 East West Design
| South Fremantle 6162 WA |
Call Now
|
Visit Site
East West Design is Australia's largest privately-owned furniture warehouse & retail store selling direct to the public. With over 10,000 pro... cash4goods
| Perth 6101 WA |
Call Now
|
Visit Site
CASH4GOODS BUYS & SELLS QUALITY SECOND HAND FURNITURE, COLLECTABLES AND HOUSEHOLD GOODS. If you are down sizing, re-locating, moving overseas or ...
Raw Edge Furniture
| O'Connor 6163 WA |
Call Now
|
Visit Site
Raw Edge Furniture are Perth based furniture makers specialising in creating bespoke timber pieces for Residential and Commercial Clients.Each piece i...
What About Me?
Content suggestions
for "home furniture"...

How To Transform Your Outdoor Space Into A Balinese Retreat
Are you looking to create a Bali inspired tropical retreat in your backyard? Come and explore some ...



Margaret River for Singaporean Expats
The definitive Margaret River Guide for the Singaporean Ex-Pat on holiday! You see Singaporeans and...



Australian Office Furniture
If you need furniture for the office - whether that be on the 24th floor, or in your study at home ...



Australian Furniture
I love handcrafted furniture and the attention to detail involved. Or then there's mass produced in...



Furniture Removals & Storage
How many times do you move in a lifetime? If you answered "Too many" you are correct! This is what ...


Got anything YOU want to add here?

Furniture Directory
| Bentley 6982 WA |
Call Now
|
Visit Site
Now you can save time & 1000's of dollars buying furniture you will enjoy forever...from lounge, dining, entertainment, bedroom and office. T...
Furniture Hire and Sales Australia (FHSA)
| Belmont 6104 WA |
Call Now
|
Visit Site
Furniture Hire and Sales Australia (FHSA) is the leading provider of office and home furniture for hire and rentals. We offer wide range of quality ...
Think Furniture Assembly
| Inglewood 6932 WA |
Call Now
|
Visit Site
Think Total - The Furniture Assembly Solution!we install and assemble your flat pack furniture, kitchens, bathrooms, bedroom, garden sheds and many mo...
Barkers Discount Furniture
| Morley 6062 WA |
Call Now
|
Visit Site
We offer a huge range of discount furniture including bedroom furniture, sofas, lounge suites, dining suites, pine furniture, office furniture and cu...
Contempo Collection
| Osborne Park 6017 WA |
Call Now
|
Visit Site
contempo is the retail arm of a large perth importer so we are able to offer direct import prices on all products in the range. On offer are top brand...
Timber Living Outdoors
| Perth 6056 WA |
Call Now
|
Visit Site
Making and supplying quality jarrah outdoor furniture at affordable factory direct prices. Products include; deck chairs, lawn-chairs, sunloungers, ve...
All-Set Rentals
| Bayswater 6053 WA |
Call Now
|
Visit Site
All-Set Rentals provide complete solutions to your hire and rental needs, with a wide range of furniture and white goods available, All-set are the le...