What About Me?
Content suggestions
for "insurance"...

How Do You Choose a Dentist?
We all understand the need of proper dental care and its benefits. However many of us remain unawar...



Australian Insurance
Why do you need insurance? To manage risk! And if something goes totally wrong, you won't end up br...


Oops! That didn't work out did it?
Oh well... early days :)
Have YOU got something you'd like to add here?
Or maybe you can search for me:)
Search Again...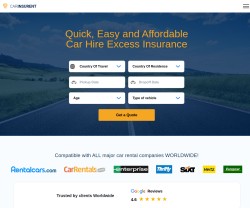 Carinsurent LTD
| Perth 6000 WA |
Call Now
|
Visit Site
QUICK, EASY AND AFFORDABLE CAR HIRE EXCESS INSURANCEWith CarInsuRent, you can save almost 50% in your insurance and get coverage for damages car renta...
Contractor Cover
| Nedlands 6009 WA |
Call Now
|
Visit Site
Contractor Cover specialise in contractors insurance, provides Public liability Insurance, Professional Indemnity Insurance, General Property Cover, T...
Paraplegic Benefit Fund Australia
| Shenton Park 6008 WA |
Call Now
|
Visit Site
Most spinal cord injuries can be prevented. PBF develops and delivers award-winning injury prevention programs - PBFPREVENTION - to help reduce the nu...
Accord Insurance Brokers
| East Perth 6004 WA |
Call Now
|
Visit Site
Accord Insurance Brokers is a well established broker who has catered for the rural, business and tradesman communities as its speciality. It offers r...
Progressive Insurance
| East Perth 6006 WA |
Call Now
|
Visit Site
Progressive insurance is a one stop shop for all your insurance needs. It has been designed with a slick online quoting system to save you time and mo...
Tradecoverwa Insurance
| Bateman 6150 WA |
Call Now
|
Visit Site
Tradecoverwa provide various insurance policies in Australia; visit the website of Tradecoverwa to become financially strong in future. Get unique quo...