What About Me?
Content suggestions
for "marine"...

Mosaic Tiles - Making A Good Purchase
For an exhilarating interior design, why not integrate even just a few pieces of glass mosaics? A t...



Margaret River for Singaporean Expats
The definitive Margaret River Guide for the Singaporean Ex-Pat on holiday! You see Singaporeans and...



Australian Marine Sales, Parts & Repairs
Anything marine - sales, repairs, parts etc - that's what the heading says this section is all abou...


Oops! That didn't work out did it?
Oh well... early days :)
Have YOU got something you'd like to add here?
Or maybe you can search for me:)
Search Again...
Fibrelite Boats
| O'Connor 6163 WA |
Call Now
|
Visit Site
Fibrelite is an award winning boat building company which specialises in the repair of all classes of power and sailing boats. Fibrelite can repair yo...
Port Bouvard Marina
| Wannanup 6210 WA |
Call Now
|
Visit Site
Port Bouvard Marina offers a relaxed community atmosphere that caters to experienced cruisers, live-aboards, and weekend boaties alike. Located on the...
Jacks Winches
| Welshpool 6106 WA |
Call Now
|
Visit Site
Established in 2001, Jacks Winches core business is winch hire and jacking equipment hire. We are focused on providing high quality equipment and serv...
Dazzling Marine
| South Fremantle 6162 WA |
Call Now
|
Visit Site
Dazzling Marine, is a Western Australian owed and run providing comprehensive services to the Prestige Marine Industry. Established over 5 years ago, ...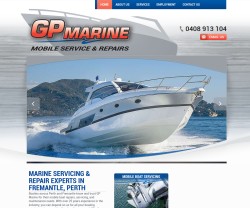 GP Marine
| Cockburn Central 6164 WA |
Call Now
|
Visit Site
Perth boaties know and trust GP Marine for their mobile boat repairs, servicing, and maintenance needs. With over 25 years experience in the industry,...
Kailis Marine
| Fremantle 6160 WA |
Call Now
|
Visit Site
Kailis Marine specialises in tug, barge and oil and gas vessel servicing along the Western Australian coast and is also available to offer experienced...
strategicmarine
| Henderson 6166 WA |
Call Now
|
Visit Site
Our international shipbuilding company specialises in both steel and aluminium construction. As a dynamic shipbuilder, we currently operate facilities...