What About Me?
Content suggestions
for "shopping"...
When to Call a Customs Broker
Bringing bulk goods into Australia can be a lengthy, complicated and expensive process - whether yo...



Mortgage Repayment Tips to Pay Off Your Home Loan Quicker
Mortgages make it possible for individuals and organizations to make huge financial investments wit...



Author Submission Guidelines
Australian based businesses and writers are welcome to post professionally written articles for pub...



Our Feeds
Grab our feeds of all the latest stuff added to Come On Aussie....



Australian OnLine Shopping
Ebay and Amazon started their online shops in 1995! Not a new phenomena... But people are going cra...



Appliance Shopping
Are you looking for appliances online? Start here and see how you go......


Got anything YOU want to add here? Hidden Valley Wood
| Parkerville 6081 WA |
Call Now
|
Visit Site
Bespoke essential oil boxes and storage, handcrafted in Perth Australia. Much of our local available wood is marri, jarrah, and sheoak. Our wood is so...
West Brothers Australia
| Mirrabooka 6061 WA |
Call Now
|
Visit Site
West Brothers are the leading streetwear clothing stockist in Australia. Our clothing collections are from some of the freshest and hottest Australian... Lift Apparel W.C
| Osborne Park 6017 WA |
Call Now
|
Visit Site
Lift Apparel is your one-stop shop for all your top active wear brands from Australia to international labels. We stock some exclusive brands like Wom...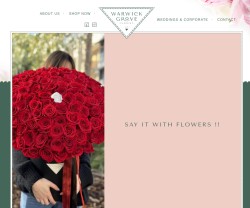 Warwick Grove Florist
| Warwick 6024 WA |
Call Now
|
Visit Site
Award-winning florist with quality fresh flowers and same day deliveries across Perth. Services range from bespoke arrangements for special events inc...
Humidity Lifestyle
| Dunsborough 6281 WA |
Call Now
|
Visit Site
An Australian lifestyle brand offering exceptional quality ladies clothing, accessories and homewares. The range and fabrics are designed in keeping w...
CocoBEAM
| Nollamara 6061 WA |
Call Now
|
Visit Site
Affordable Women's Clothing that offers on-trend fashion from both Australian and International Designers. We offer free express shipping plus ea...