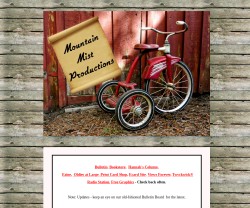 Mountain Mist Productions
| Milton 4064 QLD |
Visit Site
Friend of COA!
- Australian E-Publishing Company selling online e-books, print books and featuring an Author Showcase, Free Ezine,Contests, Reviews, Free Articles and...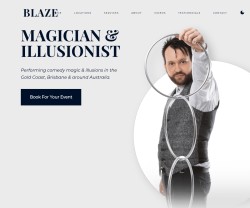 Blaze Magic
| Gold Coast 4211 QLD |
Call Now
|
Visit Site
Blaze the Gold Coast magician performs incredible magic and illusions throughout Australia! Bringing entertainment to school, libraries, churches, res...
Aussie Jumping Castles
| Cleveland 4163 QLD |
Call Now
|
Visit Site
Add a ton of fun and energy to your party or special event with Aussie Jumping Castles. We have all your favorite jumping castles, slides and interact...
What About Me?
Content suggestions
for "entertainment"...

Help yourtown to Help Young Aussies
Australian millennials get a bad rap. What most Australians don't know is that even under the best ...



UHF and HF RFID Readers Advance Business Efficiency
Find out how RFID technology can help you advance your business to a new level of efficiency by pr...



Author Submission Guidelines
Australian based businesses and writers are welcome to post professionally written articles for pub...



Australian Entertainment
Need to have a good time? Find some new Aussie Entertainment Websites here......



Australian Events
Are you looking for some help with an event you want to host?...



Australian Leisure & Recreation
There's all sorts of things you can do to while away your leisure time in Australia. Here are just ...


Got anything YOU want to add here?

Onstage Weddings
| Enoggera 4051 QLD |
Call Now
|
Visit Site
We are a premium provider of top class wedding and event entertainment. We supply live music, bands, dj's and corporate entertainment across Bris...
Flamewater Circus
| Karana Downs 4306 QLD |
Call Now
|
Visit Site
Looking to set your next party or event off with a bang? Come to Flamewater Circus. With a range of difference performances spanning from fire perform...
Best Bookie Bonus
| Buddina 4575 QLD |
Call Now
|
Visit Site
Best Bookie Bonus is your one stop shop giving critical information for the best bookie bonus details for each bookmaker in the sports betting world! ...
Disguises
| Woolloongabba 4102 QLD |
Call Now
|
Visit Site
Disguises is the home of costume hire and fancy dress in Brisbane. Disguises stocks a wide range of costumes for every occasion, from decades past and...
Invisions Staffing & Party Hire
| Raceview 4305 QLD |
Call Now
|
Visit Site
A boutique party hire business With the coolest products, the best party staff & service like it should be.... Cat-o'-Nine-Tails-Cruises
| Wynnum 4178 QLD |
Call Now
|
Visit Site
Charter boat operator specialising in parties for all types of occasions and all budgets. We 'Party On' the River, Bay and Islands...
Red Scorpion Laser Skirmish
| Southport BC 4215 QLD |
Call Now
|
Visit Site
Red Scorpion Laser Skirmish specializes in providing fantastic fully supervised "army-themed" laser tag parties and events for kids and adults, al...
AwesomeX Mobile DJ & Karaoke Service Pty Ltd
| Marsden 4132 QLD |
Call Now
|
Visit Site
We are a mobile DJ hire and karaoke hire business servicing all area's from the gold coast to sunshine coast. ...
Kenzy
| Mermaid Beach 4218 QLD |
Call Now
|
Visit Site
Browse our online portal to choose from the exclusive and wide range of attractive Kenzy retro beer and wine coolers that have been designed in a way ...
Foxy Hens Party
| West End 4101 QLD |
Call Now
|
Visit Site
Life Drawing, Body Painting, DIC-tionary, Hens party games, Hens party ideas, Melbourne, Sydney, Sunshine Coast, Central Coast, Gold Coast, Brisbane, ...
A-Sportsbook
| Blackall(Queenslad) 3014 QLD |
Call Now
|
Visit Site
A-sports book is a place created with intensions to provide the best sports betting options available in US,UK,Canada,Europe,Australia...
Pumpinjumpincastles
| Clear Island Waters 4226 QLD |
Call Now
|
Visit Site
Pumpinjumpin castles provide you the castle hire gold coast and gold coast jumping. We provide a cool waterslide at the summer days and hence you can...