What About Me?
Content suggestions
for "wedding"...

How To Transform Your Outdoor Space Into A Balinese Retreat
Are you looking to create a Bali inspired tropical retreat in your backyard? Come and explore some ...



Sunset Wedding Ceremony… Ahhh…
A perfect sunset can make any wedding even more memorable....



Author Submission Guidelines
Australian based businesses and writers are welcome to post professionally written articles for pub...



Our Feeds
Grab our feeds of all the latest stuff added to Come On Aussie....



Australian Flowers and Florists
There's squillions of "flower quotes" I could use here to jazz this up. But these just don't need i...



Australian Wedding Information
There's about 900+ wedding specialists in this section who are very happy to assist you on your spe...


Got anything YOU want to add here?

Flaver Productions
| Canning Vale 6155 WA |
Call Now
|
Visit Site
Flaver was established in 2012 (originally Southwest Event Service) with an inventory of only 100m of festoon lighting. Owner-operator Jacob Arnold ha...
Wishsprout pty ltd
| RIVERTON 6148 WA |
Call Now
|
Visit Site
Free online wedding gift registry also known as bridal registry made for modern couples. Cash gifts accepted. Trusted by thousands of users. We strive... mega-soundz
| Perth 6056 WA |
Call Now
|
Visit Site
Touch screen karaoke and jukebox hire Perth. We have a full range of party hire gear, slushies, chairs, tables, foggers, bubble machines....
Peel Manor House
| Karnup 6176 WA |
Call Now
|
Visit Site
We become part of your event, we don't just host it. Peel Manor House was specially built as a bed and breakfast to offer a luxury getaway for pe...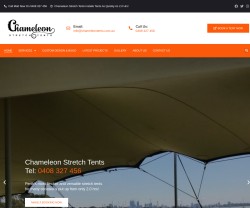 Chameleon Tents
| Hamilton Hill 6163 WA |
Call Now
|
Visit Site
Chameleon Stretch Tents is provide the most versatile, flexible and biggest Tents in Perth. Because of the flexible design of our Stretch Tents they a...
The Sweeter Side
| Winthrop 6150 WA |
Call Now
|
Visit Site
The Sweeter Side strives to produce professional, unique, beautiful custom cakes & sugar cookies for your special occasion! We are a small busines...