What About Me?
Content suggestions
for "Wedding Venues"...

Australian Wedding Venues
Hmmm… Where to have your wedding? Right from the start, a very tricky question to answer. Check o...


Oops! That didn't work out did it?
Oh well... early days :)
Have YOU got something you'd like to add here?
Or maybe you can search for me:)
Search Again...
Whitsundays Weddings
| Airlie Beach 4802 QLD |
Call Now
|
Visit Site
Coral Sea Resort is positioned on the absolute oceanfront of Airlie Beach, in the Whitsundays. Offering a variety of stunning wedding reception and ce...
Greenfields Albert Park
| Melbourne 3004 VIC |
Call Now
|
Visit Site
Alternative event space and eatery, nestled between Albert Park Lake and Albert Park Golf Course. A place for guests to enter a place of community and...
Vogue Ballroom
| Burwood East 3151 VIC |
Call Now
|
Visit Site
Out team of DEDICATED, highly skilled professionals will give you their undivided attention, from our chefs to our function/operation coordinators, as...
Brighton Savoy
| Brighton 3186 VIC |
Call Now
|
Visit Site
Brighton Savoy is a multi award winning beachfront wedding venue offering stunning hotel accommodation, 24 hour front desk, room service, restaurant a...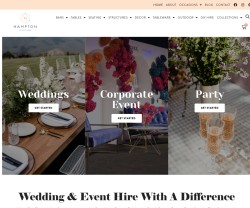 Hampton Event Hire
| Tweed Heads South 2486 NSW |
Call Now
|
Visit Site
Hampton Event Hire is a luxury event hire company working throughout Brisbane, Gold Coast, Tweed Shire and Byron Bay. Our services offer event hire eq...