What About Me?
Content suggestions
for "for men"...

What your Feet Say About You
Your feet are your body's foundation, so it's no wonder that they may provide the first clues of a ...



An Eye Check-Up Could Save Your Life!
As far as regular health checks go, an eye exam is one of the simplest – and it can usually be bu...



Will Real Estate Crash In Australia?
It's no secret that Australian property prices have been dropping for the past few months. Are Real...



What's Hot In Kitchens?
About to build your dream home - or wanting to update your current kitchen? Here's your guide to wh...



How to Ensure Workplace Safety for Employees
As an employer, you need to create a safe environment for your employees. You need to make them fee...


When to Call a Customs Broker
Bringing bulk goods into Australia can be a lengthy, complicated and expensive process - whether yo...


Got anything YOU want to add here?

Spectrum Floor Coating
| Melbourne 3048 VIC |
Call Now
|
Visit Site
Outdoor or indoor garage epoxy floor coating is requested upon a certain need. The advantages of the garage epoxy flooring are considerably higher tha... Callum Sherwood
| Lilydale 3140 VIC |
Call Now
|
Visit Site
Bet with us provides punters with the widest range of bonus bets in Australia. We list bonus bet information from australian online gambling sites....
Felicity Cain Barristers & Solicitors
| Perth 6000 WA |
Call Now
|
Visit Site
Felicity Cain is an experienced criminal defence lawyer and former state prosecutor. As such, Felicity has experience with all aspects of criminal law...
4WD Supacentre
| Silverwater 2128 NSW |
Call Now
|
Visit Site
4WD Supacentre carries a range of accessories designed to make your 4WD or camping trip that much more enjoyable and keep you out on the tracks for lo...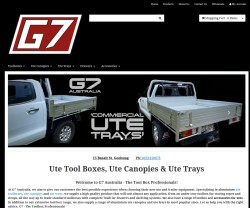 G7 Australia
| Geebung 4034 QLD |
Call Now
|
Visit Site
Ute Tool Boxes & Canopies - Welcome to G7 Australia - The Tool Box Professionals! At G7 Australia, we aim to give our customers the best possible ...
Western Australia Airsoft Club Inc
| Thornlie 6108 WA |
Call Now
|
Visit Site
Airsoft is a shooting sport enjoyed all over the world, similar to paintball, however safer, cheaper and more convenient. Australia is part of only 7%...