What About Me?
Content suggestions
for "Accommodation"...

Margaret River for Singaporean Expats
The definitive Margaret River Guide for the Singaporean Ex-Pat on holiday! You see Singaporeans and...



The "Green Behind The Gold"
Escape to explore the natural wonders of the Gold Coast Hinterland and you'll have an experience wh...



Australian Accommodation & Booking Services
Visit this page for General Information about Accommodation in Australia, Booking Services and Mult...



Australian Accommodation - Small Venues
Do you like staying in smaller venues like Cabins / Houses / B&B's / Pubs - that sort of Accommodat...



Australian Motels, Hotels & Resorts
Find Great Motels / Resorts / Apartments / Hotels across Australia, right here @ Come On Aussie...


Got anything YOU want to add here?

Gold Coast Holidays
| Surfers Paradise 4217 QLD |
Call Now
|
Visit Site
If you're looking for awesome Gold Coast holidays we can help you find the best accommodation deals on resorts and apartments! As a family owned ...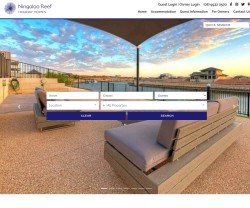 Ningaloo Reef Holidays
| Exmouth 6707 WA |
Call Now
|
Visit Site
Booking your private holiday home accommodation in Exmouth on the Ningaloo Reef Coral Coast has never been so easy. Each of our meticulously clean hol...
Private Properties
| Dunsborough 6281 WA |
Call Now
|
Visit Site
The best private accommodation in South West WA. View our properties and pricing and book online today... Serviced Houses
| Port Melbourne 3207 VIC |
Call Now
|
Visit Site
"Serviced Houses" offer quality, short and long term, self contained properties in Sydney and Melbourne. We have been in accommodation bus...
E Habla Travel
| Reedy Creek 4227 QLD |
Call Now
|
Visit Site
Whether you're seeking to indulge yourself in the pristine surrounds of a sun soaked island resort, an enchanting forest hideaway, a first class ...