What About Me?
Content suggestions
for "Car Rental"...

Australian Car Removal Services
Your car broken down completely? Is it not worth fixing and just cluttering up the yard? These Auss...



5 End of Lease Cleaning Tips to Get Your Bond Back
If you're patient, detail-oriented and willing to put the time in, getting your bond back in full s...



Margaret River for Singaporean Expats
The definitive Margaret River Guide for the Singaporean Ex-Pat on holiday! You see Singaporeans and...



Australian Car Rentals
Your car broken? Or you just don't have access to one at all? These Aussie car rental places will g...


Search Again...
Australia Sports Car Rental
| Biggera Waters 4216 QLD |
Call Now
|
Visit Site
Australian Sports Car Rentals offers the most exclusive luxury, exotic sports car hire throughout Australia. We provide rental services in Sydney, Mel...
Rent A Bomb
| South Melbourne 3205 VIC |
Call Now
|
Visit Site
We have been providing cheap used car rentals for over 38 years in 3 states. And now with new cars too, we are the largest new and used car rental com...
A1 Car Rental Cairns
| Cairns City 4870 QLD |
Call Now
|
Visit Site
An extensive range of vehicles to choose from. We are committed to providing quality at a competitive rate. Speak to one of friendly staff today! 07 4...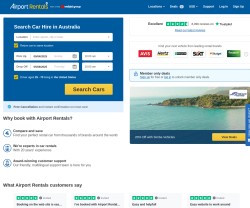 Airport Rentals Australia
| Melbourne 3004 VIC |
Call Now
|
Visit Site
If you're looking for a trusted car rental service provider from the airport, you can't go wrong with Airportrentals.com.au. With a best price gua...
Airport Rentals
| Melbourne 3004 VIC |
Call Now
|
Visit Site
Airportrentals.com is a global car rental broker focused on providing the best value in car rental around the world from renown international and loca...