What About Me?
Content suggestions
for "Marine"...

Mosaic Tiles - Making A Good Purchase
For an exhilarating interior design, why not integrate even just a few pieces of glass mosaics? A t...



Margaret River for Singaporean Expats
The definitive Margaret River Guide for the Singaporean Ex-Pat on holiday! You see Singaporeans and...



Australian Marine Sales, Parts & Repairs
Anything marine - sales, repairs, parts etc - that's what the heading says this section is all abou...


Oops! That didn't work out did it?
Oh well... early days :)
Have YOU got something you'd like to add here?
Or maybe you can search for me:)
Search Again... Affordable Antifoul Solutions
| Mudgeeraba 4213 QLD |
Call Now
|
Visit Site
Based on the Gold Coast and servicing South East Queensland, we are a fully mobile service providing all aspects of marine maintenance including Antif... Dennis' Mobile Marine Services
| Edmonton 4869 QLD |
Call Now
|
Visit Site
Dennis Mobile Marine Services Cairns is a fully qualified and experienced mobile marine mechanic & outboard mechanic, servicing Gordonvale to Dain...
Polaris Marine Pty Ltd
| Rozelle 2039 NSW |
Call Now
|
Visit Site
Polaris Marine is an Australian marine services company with its headquarters in Sydney, Australia. We've been providing services to the maritim...
Marine Asset Services
| Bungalow 4870 QLD |
Call Now
|
Visit Site
Marine Asset ServicesMarine Engineering and Power Generation Service.Repairs to marine diesel engines and generatorsShip and Boat repairsDesign and Co...
Gre Marine
| Prospect 2148 NSW |
Call Now
|
Visit Site
Authorised supplier of Ski boats from Malibu and Axis as well as Fishing boats from Honda outboard, Northbank, and Tabs. Visit our show room in Prospe...
Whitsunday Discount Marine
| Cannonvale 4802 QLD |
Call Now
|
Visit Site
We stand by our quality and ensure each product is quality controlled throughout the manufacturing, warehousing and delivery processes. We offer a sat...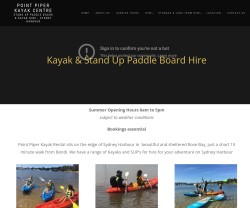 The Point Piper Kayak Centre
| Point Piper 2029 NSW |
Call Now
|
Visit Site
Sydney harbours most sheltered Stand up paddle board and kayak centre with the closest access to the best harbour beaches and famous sites. We offer h...