What About Me?
Content suggestions
for "Parts"...

Studying For GAMSAT Section 1
What's the best way to prepare for Gamsat Section 1? Find out how to maximize your score in this se...



Water Pump Selection Guide : Typing, Sizing, Pricing
Water pumps with small diesel engines are typically less expensive to run than pumps using other ty...



5 End of Lease Cleaning Tips to Get Your Bond Back
If you're patient, detail-oriented and willing to put the time in, getting your bond back in full s...



The "Green Behind The Gold"
Escape to explore the natural wonders of the Gold Coast Hinterland and you'll have an experience wh...



How Do I Remove My Listing?
How do I delete or remove the business listing for my website? Please let me know what is the quick...



Australian Glass
Glass. It used to be that stuff that was mainly in windows! Now, you can find it everywhere....


Got anything YOU want to add here?

JNR Moto Sports
| Berwick 3806 VIC |
Call Now
|
Visit Site
JNR Moto Sports supplies all of your accessories and hard parts for your off road motorcycle needs. We also stock hard enduro and adventure riding par... Solid GPS
| Vermont 3133 VIC |
Call Now
|
Visit Site
What would you do if your vehicle was stolen? As over 50,000 caravans, cars, boats and motorbikes are stolen every year in Australia and New Zealand. ...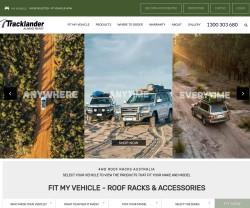 Tracklander
| Welshpool 6106 WA |
Call Now
|
Visit Site
The Sturdy Tracklander Roof Rack is the result of over 4 decades of experience in 4WD roof rack manufacture and design. Built for the harsh conditions...
Abba Caravans
| Rockingham 6168 WA |
Call Now
|
Visit Site
Abba Caravans are a reputable caravan dealer located in Rockingham, Western Australia. Select from the current range of Masterpiece and Silvervalley ...
Ozy Toolbox Centre
| Castle Hill 2154 NSW |
Call Now
|
Visit Site
OZY TOOLBOX CENTRE is an Australian family-owned and operated company. We understand the value of hard work and quality craftsmanship. We pride oursel... Perth Parts Solutions
| Malaga 6090 WA |
Call Now
|
Visit Site
Perth Parts Solutions The 'Late Model Parts Specialists' in Western Australia <br />Perth Parts Solutions is a leading supplier of used a...