What About Me?
Content suggestions
for "travel"...

"Amazing" New Series - Come Along For A Ride
A new YouTube Travel Series helps you uncover some hidden gems at your back door, including the lar...



5 National Parks You Should Visit in Australia
Australia is filled with some of the most beautiful parks in the world. We will talk about the top ...



Margaret River for Singaporean Expats
The definitive Margaret River Guide for the Singaporean Ex-Pat on holiday! You see Singaporeans and...



Where's the Aussie Spirit Gone?
Are you one of the many Aussies wondering what the *beeps* going on in our country these days? My r...



It's Whale Watching Time
May/June to November is the best time to see the Humpback Whales in their annual 10,000km migration...



Whale Watching @ Hervey Bay
Hervey Bay in Queensland is the Whale Watching Capital of the World! Watch Australia's Humpbacks do...


Got anything YOU want to add here?

OZ Tours & Adventures
| Melbourne 3008 VIC |
Call Now
|
Visit Site
Capital city of Australia has a lot of tourist destinations that attracts visitors worldwide. Melbourne city boats a range of sightseeing and due to i...
Hens Winery Tours
| Fairfield 3078 VIC |
Call Now
|
Visit Site
Get your Hens together for a spectacular day out over wine, ciders, cheese to gourmet lunch in the comfort of our private designated driver to make th...
Kangaroo Hopping Tours
| Bundoora 3083 VIC |
Call Now
|
Visit Site
Are you thinking of an escape plan to get away from the busy lifestyle? You are working hard Monday to Friday and dealing with the stress of the traff...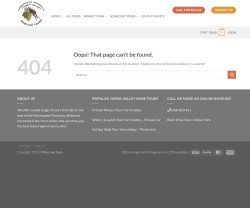 Wine Hop Tours
| Mount Martha 3934 VIC |
Call Now
|
Visit Site
Life's hectic, we know it. The best way to unwind from the working week is to gather your closest people for a day trip over the hills to the Yar...
PrepaidSIMs
| Melbourne 3000 VIC |
Call Now
|
Visit Site
PrepaidSIMs is here to provide Aussie travellers with the most affordable and reliable Prepaid Travel SIM Cards from destinations around the world. To...
Melbourne Small Group Tours
| Melbourne 3000 VIC |
Call Now
|
Visit Site
Melbourne Small Group Tours specialize in high quality, great value experiences, with one 11 passengers! We offer day trips from Melbourne, including ...