 Tiler Sutherland Shire
| Miranda 2228 NSW |
Call Now
|
Visit Site
A local renovation and tiling company in the Sutherland Shire that takes genuine pride in the workmanship of each project, large and small. We are a t...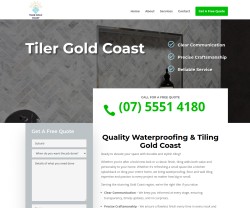 Tiler Gold Coast
| Gold Coast 4226 QLD |
Call Now
|
Visit Site
A quality Gold Coast tiler at your service. We offer high quality durable wall and floor tiling for residential and commercial properties from the nor... Tiler Bendigo
| Golden Square 3555 VIC |
Call Now
|
Visit Site
Are you looking for a reputable, experienced, and affordable tiler in Bendigo? As a local family business, we pride ourselves in providing top quality...
What About Me?
Content suggestions
for "Tiling"...

Australian Tiles & Tiling Services
It's fascinating watching a tiler at work, transforming the ugly duckling (your old bathroom) into ...


Oops! That didn't work out did it?
Oh well... early days :)
Have YOU got something you'd like to add here?
Or maybe you can search for me:)
Search Again...
Kaptol Tiling Newcastle
| Warners Bay 2282 NSW |
Call Now
|
Visit Site
Professional Floor Tiling and Wall Tiles Newcastle. If you are a Newcastle resident you will understand how valuable your house is. Keeping it updated...
Tiling Team Toowoomba
| Toowoomba City 4350 QLD |
Call Now
|
Visit Site
Tiling Team Toowoomba is your local residential & commercial tile installation experts in Toowoomba QLD. Our priority is to deliver an outstanding...
The Tiler Mackay
| Mackay 4740 QLD |
Call Now
|
Visit Site
Welcome to The Tiler Mackay! We offer tile installation services in Mackay, QLD and the surrounding areas. Whether you're looking for floor tili... Lexa Tiling
| Caulfield South 3162 VIC |
Call Now
|
Visit Site
Lexa Tiling of Melbourne established tilers who work in the Inner and South-Eastern suburbs. Lexa tiling has a number one team which is providing tili...
OzGood Tiling
| Fairfield East 2165 NSW |
Call Now
|
Visit Site
OzGood Tiling is your affordable, professional and reliable tiling team in Sydney, NSW. Specialising in Sydney kitchen and bathroom renovations....
Jax Complete Tiling
| Parramatta 2150 NSW |
Call Now
|
Visit Site
Need a tiler in Sydney? For professional bathroom tiling, kitchen tiling, wall and floor tiling services, outdoor. We install a wide range of tile typ...
Tiling North Sydney
| North Sydney 2060 NSW |
Call Now
|
Visit Site
Affordable and professional tiling services and contractors in North Sydney We offer exceptional tiling services in and around North Sydney, providin...