A good bathroom is more than just design and function. And after doing a lot of travelling, you'll learn that a great bathroom is where you can feel "at home" and comfortable.
For more ideas on what makes a great bathroom… check out these guys!
THE GOLD COAST SHOWER SCREEN REPAIR GUYS
| Burleigh Waters 4220 QLD |
Call Now
|
Visit Site
Searching for a reliable, quality-driven solution for shower screen installation and repair in the Gold Coast area? Look no further than Gold Coast Sh...
Tile For Life
| Little Mountain 4551 QLD |
Call Now
|
Visit Site
If you're in the process of renovating your bathroom on the Sunshine Coast and need an expert bathroom renovation tiler to add the finishing touc...
Perth Shower Repairs
| South Fremantle 6162 WA |
Call Now
|
Visit Site
If you're in need of shower repair services in Perth, Western Australia, look no further than Perth Shower Repairs. We pride ourselves on providi...
What About Me?
Content suggestions
for "Bathroom"...

Mosaic Tiles - Making A Good Purchase
For an exhilarating interior design, why not integrate even just a few pieces of glass mosaics? A t...



Six Best Renovations to Add Value to Your Home
Here are six of the best renovations to add value to your home.
...



5 End of Lease Cleaning Tips to Get Your Bond Back
If you're patient, detail-oriented and willing to put the time in, getting your bond back in full s...



A Room by Room Guide to Keeping Pests Out of Your Home
When it comes to those pesky little insects that just love to invade our living spaces, sometimes t...



Australian Bathrooms
Your bathroom is the one place in the whole world where you need to feel "at home" and comfortable....



Australian Tiles & Tiling Services
It's fascinating watching a tiler at work, transforming the ugly duckling (your old bathroom) into ...


Got anything YOU want to add here?

Bathroom Renovations Parramatta
| Parramatta 2150 NSW |
Call Now
|
Visit Site
Choose Bathroom Renovations Parramatta when you are in the market for new fixtures or to schedule us to redesign your bathroom. We offer affordable ba...
MasterCraft Bathroom Renovations
| Algester 4115 QLD |
Call Now
|
Visit Site
Looking for the best bathroom renovations Brisbane has to offer? MasterCraft are your local specialist bathroom renovation company who offer three ren... Absolute Bathroom Renovations
| Cranbourne West 3977 VIC |
Call Now
|
Visit Site
Cranbourne Bathroom Renovations Our goal is to create beautiful bathrooms with results you'll love at realistic price points. Absolute Bathroom R...
Vision Shower Screens & Wardrobes
| King Creek 2446 NSW |
Call Now
|
Visit Site
With 25 years of industry experience, Vision showerscreens and wardrobes offer prompt and reliable service for all your showerscreen and wardrobe need...
Elite Bathroom Renovations Melbourne
| Footscray 3011 VIC |
Call Now
|
Visit Site
We are a group of talented trades people who specialize in wet area waterproofing, bathroom renovations and balcony repairs in Melbourne. We have tile... Bathroom Renovations Canberra ACT
| Wanniassa 2903 ACT |
Call Now
|
Visit Site
Bathroom Renovations Canberra ACT specialises in premium and modern bathrooms. Our bathroom renovators are professionals with extensive training and e...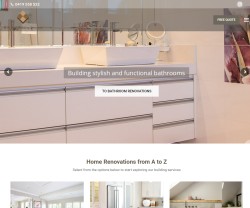 R.A. Paul Building Services
| BRIGHTON EAST 3187 VIC |
Call Now
|
Visit Site
We specialise in small to medium scale renovation projects. If you consider a home renovation for any reason including increasing the property value b...
Versatile Bathrooms
| Greensborough 3088 VIC |
Call Now
|
Visit Site
At Versatile Bathrooms we offer expert bathroom renovations to the residents of Melbournes North and North Eastern suburbs. Managing director Rob Priv...
Xtreme Seal
| Oakleigh 3166 VIC |
Call Now
|
Visit Site
With over 25 years of experience in the building industry, this Australian owned company can repair your leaking shower and balcony without removing a...
ABI Architectural Bathrooms & Interiors
| Burleigh Heads 4220 QLD |
Call Now
|
Visit Site
ABI Bathrooms & Interiors specialise in providing luxurious but affordable bathroom accessories, tapware and kitchen sinks in colours such as rose...
My Bath
| Camberwell 3124 VIC |
Call Now
|
Visit Site
This family-owned company provides bathroom, laundry and kitchen renovations to homes across the southeastern suburbs of Melbourne. From start to fini...
Instant Shower Screens
| Lonsdale 5160 SA |
Call Now
|
Visit Site
Shower Screens Adelaide. Shower screens in hours not weeks. We can fit a new, good qualityshower screen to your premises in a matter of hours after yo...