What About Me?
Content suggestions
for "Bathroom"...

Mosaic Tiles - Making A Good Purchase
For an exhilarating interior design, why not integrate even just a few pieces of glass mosaics? A t...



Six Best Renovations to Add Value to Your Home
Here are six of the best renovations to add value to your home.
...



5 End of Lease Cleaning Tips to Get Your Bond Back
If you're patient, detail-oriented and willing to put the time in, getting your bond back in full s...



A Room by Room Guide to Keeping Pests Out of Your Home
When it comes to those pesky little insects that just love to invade our living spaces, sometimes t...



Australian Bathrooms
Your bathroom is the one place in the whole world where you need to feel "at home" and comfortable....



Australian Tiles & Tiling Services
It's fascinating watching a tiler at work, transforming the ugly duckling (your old bathroom) into ...


Got anything YOU want to add here?

MasterCraft Bathroom Renovations
| Algester 4115 QLD |
Call Now
|
Visit Site
Looking for the best bathroom renovations Brisbane has to offer? MasterCraft are your local specialist bathroom renovation company who offer three ren... Absolute Bathroom Renovations
| Cranbourne West 3977 VIC |
Call Now
|
Visit Site
Cranbourne Bathroom Renovations Our goal is to create beautiful bathrooms with results you'll love at realistic price points. Absolute Bathroom R...
Vision Shower Screens & Wardrobes
| King Creek 2446 NSW |
Call Now
|
Visit Site
With 25 years of industry experience, Vision showerscreens and wardrobes offer prompt and reliable service for all your showerscreen and wardrobe need...
Elite Bathroom Renovations Melbourne
| Footscray 3011 VIC |
Call Now
|
Visit Site
We are a group of talented trades people who specialize in wet area waterproofing, bathroom renovations and balcony repairs in Melbourne. We have tile... Bathroom Renovations Canberra ACT
| Wanniassa 2903 ACT |
Call Now
|
Visit Site
Bathroom Renovations Canberra ACT specialises in premium and modern bathrooms. Our bathroom renovators are professionals with extensive training and e...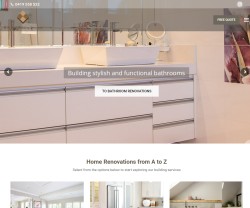 R.A. Paul Building Services
| BRIGHTON EAST 3187 VIC |
Call Now
|
Visit Site
We specialise in small to medium scale renovation projects. If you consider a home renovation for any reason including increasing the property value b...