McKimm Creative
| Kyneton 3444 VIC |
Call Now
|
Visit Site
McKimm Creative joins the dots between fabulous copywriting, SEO strategy and affordable, aesthetically pleasing web design. I help new businesses bu...
Ignite Digital Solutions
| Hughesdale 3166 VIC |
Call Now
|
Visit Site
Ignite Digital Solutions provide search marketing services for Australian businesses. We specialise in SEO, Adwords and wordpress websites that get yo...
Adnow!
| Melbourne 3072 VIC |
Call Now
|
Visit Site
An award winning SEO Company in Melbourne, VIC, Australia providing an exceptional yet affordable SEO Service. Small, Medium or Big, we don't car...
What About Me?
Content suggestions
for "seo"...

What's Hot In Kitchens?
About to build your dream home - or wanting to update your current kitchen? Here's your guide to wh...


When to Call a Customs Broker
Bringing bulk goods into Australia can be a lengthy, complicated and expensive process - whether yo...



Social Media Important for the Growth of Robina Lawyers
In the past some law firms have regularly used social media as a tool to communicate with their loc...



Aspiring Career Options for a Marketing Degree Holder
Simply put, getting a master of marketing degree can give you the skills and knowledge necessary to...



Come On Aussie Is Coming On Home...
After a short holiday down the South Coast, Come On Aussie is coming back home... Find out all abou...



👍 101 Australian Website Directories - A Detailed Analysis
We looked at 101 Australian Web Directories and subjected them to 37 different tests to determine h...


Got anything YOU want to add here?

Swoop Digital
| Carnegie 3163 VIC |
Call Now
|
Visit Site
Based in Melbourne, Swoop Digital is a digital marketing agency that helps businesses generate more leads, sales and profits. Beginning with the end i...
Digital360
| South Yarra, VIC 3141 VIC |
Call Now
|
Visit Site
The agency for ambitious companiesWe're a digital agency in Melbourne that helps companies discover their competitive advantage. Using data and t...
PixelRush
| Mitcham 3132 VIC |
Call Now
|
Visit Site
PixelRush is a conversion focused digital marketing agency located in Melbourne. We've been helping businesses Australia-wide build high performing ...
SEO Shark
| Melbourne 3000 VIC |
Call Now
|
Visit Site
SEO Shark is a Melbourne based digital marketing agency which is both reliable and affordable, and you can trust us to give you the best results! All ...
Scout SEO
| Melbourne 3004 VIC |
Call Now
|
Visit Site
At Scout SEO we run a digital marketing business that offers a range of website services. </br>- We design digital blueprints for small to mediu...
A.P. Web Solutions
| Hawthorn 3122 VIC |
Call Now
|
Visit Site
Here at AP Web Solutions we have earned the status of one of the best Internet Marketing Services in Melbourne. We offer SEO services, web design and ...
Digital Quotes Australia
| Melbourne 3000 VIC |
Call Now
|
Visit Site
Marketing Quotes is a free service, allowing you to compare business marketing quotes using one easy enquiry....
SEO North Melbourne
| South Morang 3752 VIC |
Call Now
|
Visit Site
SEO north melbourne is power full melbourne based local SEO (internet marketing) company, That provides the exceptional SEO services to melbourne base...
Shaba Digital Marketing
| Melbourne 3000 VIC |
Call Now
|
Visit Site
We consider ourselves the best providers of SEO Melbourne has to offer.We are a full service Digital Marketing company based in Melbourne, specialisin...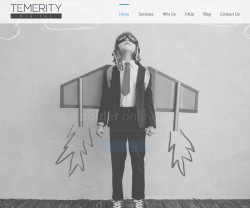 Temerity Web Solutions
| Camberwell South 3124 VIC |
Call Now
|
Visit Site
Temerity is an online marketing and web design company offering a range of affordable services to help your online presence and boost your sales such ...
eMarket Experts
| Caulfield North 3161 VIC |
Call Now
|
Visit Site
In the year 2013, a bunch of young entrepreneurs had a dream: a dream to succeed. With that in mind, eMarket Experts was found with a view to emerge a...
Your Business Digital
| Beaconsfield 3807 VIC |
Call Now
|
Visit Site
Your Business Digital is an online marketing agency specialising in Websites, SEO and SEM....