What About Me?
Content suggestions
for "seo"...

What's Hot In Kitchens?
About to build your dream home - or wanting to update your current kitchen? Here's your guide to wh...


When to Call a Customs Broker
Bringing bulk goods into Australia can be a lengthy, complicated and expensive process - whether yo...



Social Media Important for the Growth of Robina Lawyers
In the past some law firms have regularly used social media as a tool to communicate with their loc...



Aspiring Career Options for a Marketing Degree Holder
Simply put, getting a master of marketing degree can give you the skills and knowledge necessary to...



Come On Aussie Is Coming On Home...
After a short holiday down the South Coast, Come On Aussie is coming back home... Find out all abou...



👍 101 Australian Website Directories - A Detailed Analysis
We looked at 101 Australian Web Directories and subjected them to 37 different tests to determine h...


Got anything YOU want to add here?

Adrenaline Design & Marketing
| Alkimos 6038 WA |
Call Now
|
Visit Site
Adrenaline Design & Marketing are your trusted partner for affordable but compelling online marketing services. We offer affordable web design, SE... Australia SEO Services
| Perth 6000 WA |
Call Now
|
Visit Site
Australia SEO Services are the number one search engine optimasation company for local and lead generation. We specialise in local trade - and local b...
Trapdoor Media
| Victoria Park 6100 WA |
Call Now
|
Visit Site
Trapdoor Media is a Perth based web design and Search Engine Optimisation (SEO) company that focuses on helping small businesses grow their online pre...
Green SEO Perth
| Perth 6000 WA |
Call Now
|
Visit Site
We are a online marketing agency located in Perth Australia. We are specialised in Search Engine Optimisation, Pay Per Click, AdWords strategies, and ...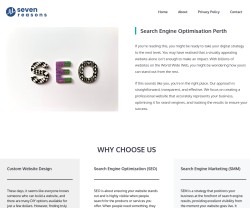 Seven Reasons Media
| West Perth 6005 WA |
Call Now
|
Visit Site
Custom website design backed up by search engine optimisation and search engine marketing is what delivers the results enjoyed by our clients. We prid...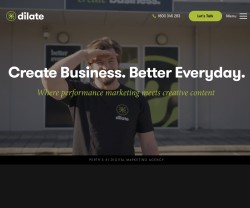 Dilate Digital PTY LTD
| Perth 6173 WA |
Call Now
|
Visit Site
Dilate Digital is the lead Digital Marketing Company in perth, WA, Offers digital marketing services including SEO Services, Sms services, Social medi...