Yeah I
know
you can DIY Web design... But ever since frontpage was around crappy websites have abounded! Even more so lately with the new DIY offerings that only do about 10% of the job! That's not the look you want for your business presence :)
Only a web developer really knows what really goes into setting things up properly cos they live and breathe it daily. And here they are... Ask them :)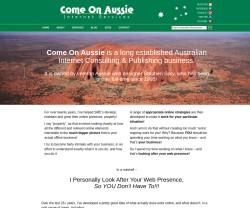 Come On Aussie Internet Services
| South Murwillumbah 2484 NSW |
Call Now
|
Visit Site
Friend of COA!
- Come on Aussie Internet Services is a long established Australian Web Design, Hosting and Promotion Studio serving small business customers across the...
Go Online Web Design
| Sunbury 3429 VIC |
Call Now
|
Visit Site
Friend of COA!
- Go Online Web Design is a professional Website Design Company based in Melbourne, Victoria. We specialise in website design & website hosting, dom...
Come On Aussie Domain Names
| South Murwillumbah 2484 NSW |
Call Now
|
Visit Site
Friend of COA!
- Please don't pay $100 or more to renew your Australian domain name! Australian domain name REGISTRATIONS or Australian domain name RENEWALS for U...
What About Me?
Content suggestions
for "web"...

Aspiring Career Options for a Marketing Degree Holder
Simply put, getting a master of marketing degree can give you the skills and knowledge necessary to...



Come On Aussie Is Coming On Home...
After a short holiday down the South Coast, Come On Aussie is coming back home... Find out all abou...



Common Causes of Knee Pain from Sports in Children
It's very common for children who participate in sports like soccer, football, and basketball to ex...



5 National Parks You Should Visit in Australia
Australia is filled with some of the most beautiful parks in the world. We will talk about the top ...



Designing Camp Launches Magento 2 Upgrade Service
A Melbourne based eCommerce agency, designingcamp.com has launched a Magento 2 upgrade service to h...



👍 101 Australian Website Directories - A Detailed Analysis
We looked at 101 Australian Web Directories and subjected them to 37 different tests to determine h...


Got anything YOU want to add here?

Pipsqueak Web Designs
| Maryborough 4650 QLD |
Call Now
|
Visit Site
Friend of COA!
- We develop quality, easy to navigate, visitor and search engine friendly websites at an extremely competitive price. We now specialise in Responsive ...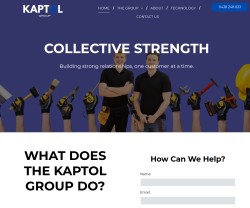 Kaptol Pty Ltd
| Warners Bay 2282 NSW |
Call Now
|
Visit Site
What does the Kaptol Group do?<br />We partner with local businesses to help them prosper. How many of these apply to your business? Limited Onl...
Cyber Designs
| Macclesfield 5153 SA |
Call Now
|
Visit Site
Contact Cyber Designs for all your web design Adelaide needs. We're a family run business who create stand out modern websites which are easy for...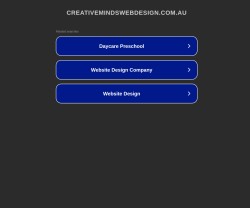 Creative Minds Webdesign
| Rye 3941 VIC |
Call Now
|
Visit Site
Creative Minds Webdesign is a boutique website design studio that specialises in top notch web design for local businesses on the beautiful Mornington...
Pixel
| East brisbane 4169 QLD |
Call Now
|
Visit Site
Pixel are your local expert Shopify Developers in Brisbane. Their highly talented team of Shopify designers and developers create world class ecommerc...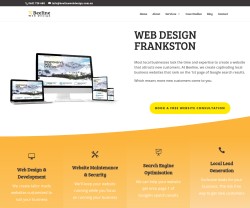 Beeline Web Design
| Frankston 3199 VIC |
Call Now
|
Visit Site
Beeline Web Design helps local businesses get more customers through building captivating websites that are easily found online, which means more cust... 7 Design
| Warrnambool 3280 VIC |
Call Now
|
Visit Site
Here at 7 Design, our mission is to help you get your brand noticed. We create bespoke, tailored websites that will push your business out in front of...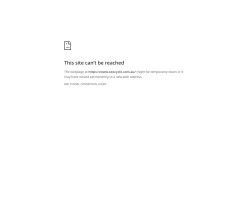 Web Prosperity Pty ltd
| West pennant hills 2126 NSW |
Call Now
|
Visit Site
Sydney based web design, SEO, copywriting & digital marketing company. SEO should be viewed as part of your business, not simply a service suppli...
Webby Website Optimisation
| Palmyra 6157 WA |
Call Now
|
Visit Site
Webby offer you website speed increases, UX for a friendlier website for humans, SEO for a more trusted website for search engines, higher search engi...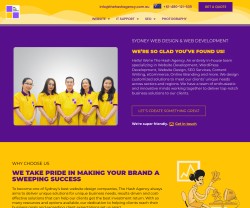 The Hash Agency
| Sydney 2000 NSW |
Call Now
|
Visit Site
We specialize in Web Development, WordPress Development Services, Web Designing, SEO Services, Content Writing, eCommerce Solutions, Online Branding a...
Top Notch I.T Warrnambool
| Warrnambool 3280 VIC |
Call Now
|
Visit Site
Warrnambool's WordPress Web Design and Development Professionals<br /> <br />Top Notch I.T Web Design Warrnambool is a web design spe...
Top Tradie Websites
| Brisbane 4102 QLD |
Call Now
|
Visit Site
Websites for Tradies That Get Results Get more paying customers with a high-performing website for your business We're website experts, so you do...