What About Me?
Content suggestions
for "Real Estate"...

Will Real Estate Crash In Australia?
It's no secret that Australian property prices have been dropping for the past few months. Are Real...



Margaret River for Singaporean Expats
The definitive Margaret River Guide for the Singaporean Ex-Pat on holiday! You see Singaporeans and...



Author Submission Guidelines
Australian based businesses and writers are welcome to post professionally written articles for pub...



Our Feeds
Grab our feeds of all the latest stuff added to Come On Aussie....



Australian Real Estate Services
Looking for Property, Agents, Conveyancers? Or other Real Estate Services in Australia? Hopefully y...


Got anything YOU want to add here?

Nest Realty
| Ardross 6153 WA |
Call Now
|
Visit Site
Purchasing or selling real estate is a big decision, for many reasons. We understand that and how much it matters to you. Our focus is to really simpl... Property Registry
| West Perth 6005 WA |
Call Now
|
Visit Site
Property Registry is your go-to resource for information about property ownerships and valuations. With access to records that range from land title i...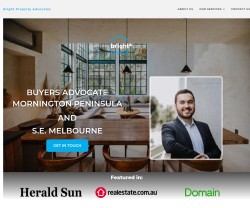 Bright Property Advocates
| FRANKSTON 3199 VIC |
Call Now
|
Visit Site
We are an independent full-service property buyers advocate working with clients purchasing property in the Mornington Peninsula.<br /> <br /... Tango Property Managers
| South Perth 6151 WA |
Call Now
|
Visit Site
Tango Property's range of comprehensive property management services takes care of everything you need, allowing you to sit back and enjoy your i... Ocean Club Resort
| Lake Cathie 2445 NSW |
Call Now
|
Visit Site
Ocean Club Resort is the ultimate in Over 50s Living. The gated community is located at Lake Cathie, just outside of Port Macquarie, and close to Rain...