What About Me?
Content suggestions
for "internet"...

Social Media Important for the Growth of Robina Lawyers
In the past some law firms have regularly used social media as a tool to communicate with their loc...



"Amazing" New Series - Come Along For A Ride
A new YouTube Travel Series helps you uncover some hidden gems at your back door, including the lar...



Aspiring Career Options for a Marketing Degree Holder
Simply put, getting a master of marketing degree can give you the skills and knowledge necessary to...



Help yourtown to Help Young Aussies
Australian millennials get a bad rap. What most Australians don't know is that even under the best ...



How to Start a Laundry and Dry Cleaning Business
Starting any business is a task and needs a thought-out plan. This article helps you finding out in...



👍 101 Australian Website Directories - A Detailed Analysis
We looked at 101 Australian Web Directories and subjected them to 37 different tests to determine h...


Got anything YOU want to add here?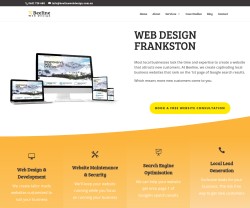 Beeline Web Design
| Frankston 3199 VIC |
Call Now
|
Visit Site
Beeline Web Design helps local businesses get more customers through building captivating websites that are easily found online, which means more cust... 7 Design
| Warrnambool 3280 VIC |
Call Now
|
Visit Site
Here at 7 Design, our mission is to help you get your brand noticed. We create bespoke, tailored websites that will push your business out in front of...
Top Notch I.T Warrnambool
| Warrnambool 3280 VIC |
Call Now
|
Visit Site
Warrnambool's WordPress Web Design and Development Professionals<br /> <br />Top Notch I.T Web Design Warrnambool is a web design spe...
Domain Registration DNS
| Werribee 3030 VIC |
Call Now
|
Visit Site
Australia's Fastest Web Hosting And Domain Name Registration! Domain Registration DNS Australia Most web hosting companies you find in Australia ...
VJ Design
| Melbourne 3004 VIC |
Call Now
|
Visit Site
Hi, I am VJ. I am the owner and operator of VJ Design, a web development and design company located in Melbourne, Australia. I focus primarily on smal...
Quko Studio
| Viewbank 3084 VIC |
Call Now
|
Visit Site
Quko Studio is a results-driven web design & digital marketing company in Melbourne, Australia. Founded out of frustration for the lack of reliabl...